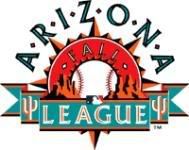 Those of you who might be curious about the Detroit Tigers prospects playing in the Arizona Fall League can now get a first-hand player account of the proceedings, thanks to MLBlogs.com.  Each major league team has a blog set up, with one player as the lead writer.
For the Tigers, that chronicler is pitcher Zach Simons, whom you might remember as the prospect Detroit received in return for Jason Grilli.  (And how popular is he among Tigers fans for that very reason?)
Other players will also be chiming in during the AFL season, as outfielder Casper Wells does for the blog's second post.  (Wells was named as Clete Thomas's replacement among the Tigers' contingent.  The Cult of Clete now pauses for reflection.) 
How are these guys doing so far with the Mesa Solar Sox?  Well, it's early, as the AFL season just began last week.  But Simons is off to a rough start, giving up four runs, five hits (two of them home runs), and three walks in four innings.  Wells is batting .154/.450/.385 with one homer, two RBIs, two stolen bases, and four walks in 17 plate appearances. 
The pitcher who looks to be the most impressive thus far is Casey Fien, whose play was highlighted in this article by Jason Beck.  In four innings, Fien has five strikeouts and allowed no runs (and no walks). 
Other Tigers AFL stats thus far:
Jeff Larish:  .182/.206/.212, eight strikeouts in 34 plate appearances.
Rudy Darrow:  Two runs, four hits, five strikeouts, two walks in four innings.
Will Rhymes:  .333/.360/.333, three RBIs in 25 plate appearances.