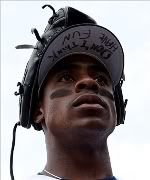 Just a reminder that (Face of the Tigers) Curtis Granderson will be the in-studio analyst for today's playoff coverage on TBS. The broadcast will begin at 4:30 p.m. EST, with the pre-game show before Game 2 of Yankees-Indians, and finish up with the 'Inside MLB' post-game show after Game 2 of Angels-Red Sox.
As I said before, Frank Thomas set the bar so low with his analysis that Curtis can't help but shine in comparison. But we've seen how well he does on TV here in the Detroit area, and hopefully he'll lend some interesting insight to the TBS studio show. (Don't get intimidated by that Cal Ripken guy, Curtis. The most triples he ever hit in a season was seven.)
Granderson will get to play in ESPN's post-season sandbox, as well. He'll be one of the in-studio analysts all over the network from October 15-19. You'll be able to see him on 'First Take,' ESPN News, and 'Baseball Tonight,' and he'll also do live chats on ESPN.com.
Once again, it's Curtis' world - we're just along for the ride.
How about we make this an Open Thread for today's playoff games? Can the Tribe go up 2-0 on the Yankees? Will the Angels have more success against Dice-K than Josh Beckett? Or let's talk about Granderson's performance. Will Charles Barkley get jealous if Curtis and Ernie Johnson hit it off well?
UPDATE 10/06: According to Curtis' people, he's been invited back by TBS for an extra day of analysis. Granderson will again be in-studio during today's NLDS doubleheader. Coverage begins with the pre-game show at 5:30 p.m. EST before Game 3 of Diamondbacks-Cubs.