"At the time, I knew that there was something wrong with my shoulder... Because a shoulder doesn't [normally] hang below your other shoulder by about three inches."
A day after news of Joel Zumaya's shoulder injury was revealed, two questions seem to be most prominent among Detroit Tigers fans and those that cover the team:
How did Zumaya really hurt his shoulder?
What will the Tigers do to replace Zumaya in their bullpen?
I think the first question is rather irrelevant now. If it were somehow revealed that Zumaya hurt himself in a situation other than what's been described - and
conspiracy theories
are
beginning to brew
- it does nothing to change what's happened. What can be done is to ensure that Zumaya never puts himself in a circumstance where his moneymaker is put at risk. No more chapters need to be added to the novel titled "The Unbearable Carelessness of Joel Zumaya."
But if it was a freak occurrence - and having a 50-60 lb. box fall upon you, while you perhaps put up an arm to catch it or protect yourself, probably qualifies - what more can you do than curse terrible fortune? Preach better judgment, I suppose.
(Right now, I can imagine my father smiling and shaking his head. A few years ago, he accidentally hit my car in our driveway, smashing in the front end. He broke the news to me by first saying, "Okay, it happened and I'm sorry, but it's done and now we'll try to fix it." Of course, all I wanted to do was talk about how he smashed up my car and yell at him. So I can certainly understand if that's what some Tigers fans want to dwell upon at the moment.)
So now what? At the beginning of this week, the Tigers' off-season commenced with a glorious start. Edgar Renteria became a Detroit Tiger under a serenade of horns with doves soaring in sun-streaked skies. Three days later, some seriously dark clouds rolled in, crushing those horns, and sending the doves flying into brick walls.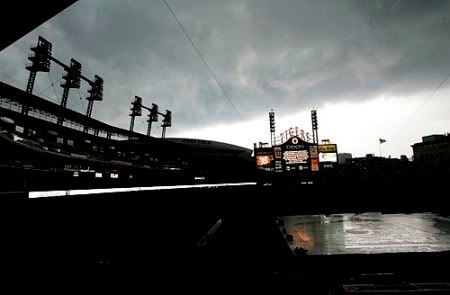 Baseball's injury guru, Will Carroll, says there's no one to compare Zumaya's case to within the sport. The closest comparable is in the NFL, where Bears quarterback Brian Griese suffered a similar type of injury while playing for the Denver Broncos seven years ago. Griese was out for the remaining two months of the season, but pro football seasons are obviously much shorter, and with fewer games, than baseball's. However, Griese did come back to play the next year, and has had a relatively successful career since then.
Football to baseball? Quarterback to pitcher? Apples to oranges? Well, sure, but what else do we have to go on?
Dave Dombrowski will operate under the presumption that Zumaya won't be available next season, which is really the only choice he has. If Todd Jones is re-signed, it won't be under the pretense that he's the mentor to the closer heir apparent. He'll be the closer because there's no one else on the pitching staff who can currently fill that role.
Fernando Rodney isn't an option, and given his past attempts at closing before Todd Jones returned to Detroit, that's probably the best decision. Any other candidates are either lacking in experience or stuff to give the Tigers any sort of confidence in being able to shut teams down in the ninth inning.
Do the Tigers try to get into the Mariano Rivera or Francisco Cordero business? Are they willing to invest $40 million over three or four years into the closer role? Because that's apparently going to be the market value. Billfer's getting ready to paint the Eric Gagne wagon, which I think most of us could get on board with. Considering he would likely be signed for fewer years, less money, and without the cost of a draft pick, it's probably the smartest way to go if Jones goes elsewhere.
But even if Jones is re-signed - and we don't really know if Atlanta is interested in him as a closer or ready to give the job to Rafael Soriano - or another top-shelf closer is brought in, there's still a huge hole in middle relief. Once Zumaya got hurt last season, they spent the rest of the year trying to find a shut-down reliever who could regularly bridge that seventh/eighth inning gap. They never did find a suitable replacement, which ended up affecting the entire pitching staff and helped to cost the Tigers a playoff spot.
The best guy available might be David Riske, who just turned down his contract option with the Kansas City Royals. This past season, he posted a 1-4 record and 2.45 ERA, with 52 strikeouts and 27 walks in 69 innings. (He gave up 61 hits, however.)
Here's a list of 2008 free agents from MLB Trade Rumors. There are plenty of intriguing names to consider. Al Reyes. Octavio Dotel. Jorge Julio. How about looking at the far east and Masahide Kobayashi? None of them will give the Tigers what a healthy Joel Zumaya would have, of course. But Joel Zumaya can't give the Tigers a healthy Joel Zumaya either, and now his team is scrambling to plug a hole that didn't exist four days ago.