It's kind of a solitary morning here at BYB HQ, so I thought I'd take an opportunity to wish everyone reading a Happy Thanksgiving.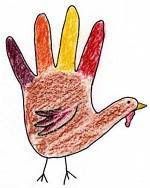 If today's the day to express what we're thankful for, then I'd like to thank each and every one of you who click over here to read my typed ramblings about our favorite baseball team. Writing for BYB, along with the people it's allowed me to meet and the opportunities it's presented, has been one of the more gratifying experiences of my life.
I'd like to close out by pointing to the Diaries section in the right sidebar and nudging you all to chime in on the latest discussion Rojo started up. The Diaries hasn't been a feature that's generated a lot of heat here, but it's quite the stop for many of the other SB Nation communities, and I think it'd be great if we got something like that going here.
Let's use this off-season to get to know each other as readers and fellow fans. I think it could make the next season a lot more fun here. If you have a topic you'd like to discuss that hasn't been posted on the main page or some breaking news that this Tigers blogger is slow to post (which has been a vexing tendency for me), start up a thread in the Diaries section. The topics don't always have to be Tigers-related either, though that's obviously the reason why we're hanging out here.
Happy Thanksgiving to all of you. May you get second and third helpings of your dish of choice, may you have the wisdom to turn away from the television before the Lions-Packers game turns ugly, and may you go home with all the turkey leftovers you desire.