If you've perused the sidebars at any point since I took over BYB, perhaps you've checked out the list of websites under the "Tigers Blogosphere" block on the left of the screen and noticed that bold, flashy DIBS banner above the list of Tigers-blogging brethren. (Unless you already belong to DIBS, in which case you already know about this stuff.)
So what's this whole thing about? Solidarity, my brothers!
To paraphrase from the press release posted at The Detroit Tigers Weblog and Mack Avenue Tigers, "DIBS" stands for "Detroit Independent Baseball Scribes" and is a grouping of independent blogs and websites that cover the Detroit Tigers. The community was the brainchild of Brian Borawski, Bill Ferris, and Ryan Sosin, who wanted to gather the various fans and writers producing independent Detroit sports coverage online.
In its third year of existence, the ranks of DIBS continues to grow, as many more sites and blogs pop up to cover the growing appetite for Tigers-related material. As more viewpoints and styles contribute to the discourse and fun, I think Tigers fandom becomes all the better for it. I can't say I'm familiar with each of the blogospheres and fanbases devoted to each major league team, but the ones that follow the Detroit Tigers are pretty damn formidable and I like our chances against anyone.
I appreciate you indulging my typically long-winded introduction to the point of this post, which is that each of the DIBS members got together and nominated their choices for Tigers Player of the Year, Pitcher of the Year, and Breakout Player of the Year. Here are the winners: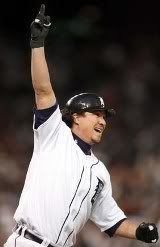 DIBS Player of the Year: Magglio Ordonez
Not a big surprise, eh? Ordonez wasn't a unanimous selection among the voters, scoring 14 of 16 first-place votes (the other two went to Curtis Granderson), but his MVP-caliber season (especially in the eyes of Tom Gage and Jim Hawkins) made this a pretty easy choice.
After 2006, it was beginning to look like we'd seen the best we'd ever get out of an increasingly creaky Magglio. What we got in 2007, however, was a hitting machine that batted .363/.434/.595 with 28 home runs and 139 RBI. It was like he was sent from the future to save us all.
This was what Mike Ilitch had in mind when he signed off on a $75 million contract. Detroit once again had a guy that compelled us to drop everything and watch when he came to the plate.
DIBS Pitcher of the Year: Justin Verlander
June 12, 2007. Isn't that all you really have to say if anyone asks who was the Tigers' best pitcher this past season? Of course, it wasn't just about one game for Justin Verlander. With an 18-6 record and 3.66 ERA over 200 innings, (along with that no-hitter), he decisively answered the question of which young pitcher would develop into the ace of the starting rotation.
But this category also made it clear why the Tigers weren't a playoff team this year. DIBS voters were asked to rank three pitchers on their ballot. After Verlander, who would you have chosen for your other two? I opted for Todd Jones and Chad Durbin. (Bobby Seay scored the most third-place votes, overall.)
DIBS Breakout Player of the Year: Curtis Granderson
Curtis Granderson established himself as a major league player in 2006. But I'm not sure even the most optimistic of fans could have expected the numbers he put up in 2007.
.302/.361/.552 with 23 home runs and 74 RBI, along with 38 doubles, 23 triples, and 26 stolen bases put Granderson in the same sentence with Willie Mays. He also played highlight reel defense this season, certifying Granderson as perhaps the best center fielder in the American League in just his second full season.
Granderson also broke out off the field, contributing an insightful blog to ESPN.com and impressed many with his studio analysis for TBS during the playoffs. In my opinion, he's already the face of the Detroit Tigers with a future that looks brilliantly bright.
Kudos to everyone who voted and to each of the DIBS sites that worked this season to make following the Tigers so much fun.
UPDATE: Who votes for these things, anyway? Well, Roar of the Tigers and The Wayne Fontes Experience have provided the public service of listing (and linking to) each of the participating sites, with a short informative blurb. (Samela's blurb about BYB is more mean than informative, but rather than hope she finds herself without gloves while waiting for a bus in this frigid northern weather, I will take the high road. Life is peaches and sunshine.)