Just to keep you warm, if you live where it's cold, or if you need some positivity after spending four or five days with your family, I thought I'd post an image that should make us all smile during this holiday season.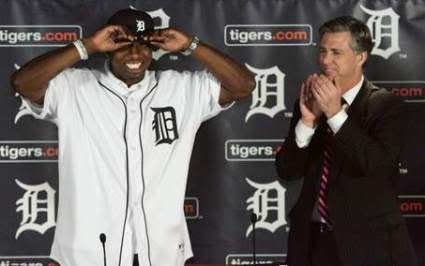 AP Photo/Detroit Free Press, Rob Widdis
Happy holidays to all of you. And if you don't do the gift thing, may your time with your family be quality and your food and drink be flavorful. And if you don't drink... man, I don't know how you're getting through this time of year.
Something else to look forward to in the new year will be some changes here at SB Nation. Version 2.0 of SBN will be slowly rolling out in 2008, and the MLB sites will be the first to go live with it. (We'll be the guinea pigs.)
What does that mean for you? Without going into specific details (mostly because I don't know all of them yet, either), I think you're going to be really happy with the new features, which will include player pages and stats, scores, schedules, standings, and news headlines. But we'll all be getting new toys to play with. There will be a lot more interactivity available for you, which hopefully adds to a tighter community feel and allows you to have a stronger voice here.
Thanks, as always, for taking the time to stop by and read. Have a happy and safe holiday season.