Sometimes the other guy is just better. I don't know if that's what Jeremy Bonderman told himself all through the night. Maybe Nate Robertson took him out after the game and shared beer-soaked laments of poor run support. That is some tough livin', and Bondo might be wondering just what the hell he has to do to get a win right now.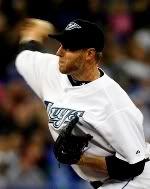 But how many starting pitchers in this modern era of baseball would go out there for 10 innings? In a regular season game? In mid-April? There's Roy Halladay, and then there's everybody else. I only wish I'd had the conviction to stick with my hunch that he'll win the Cy Young Award this season, because I can't imagine anyone looking better than he was last night. That was just a phenomenal effort, and despite the fact that it beat the team I'm rooting for, it was an absolute pleasure to watch. I'd forgotten how enjoyable a true pitching duel could be.
I'm sure Bondo thinks he could've matched Halladay inning-for-inning had his manager not taken him out of the game. Any competitor would. But from Jim Leyland's point of view, what would that have proven? This wasn't a post-season Game 7. And this is why you've invested so much into your bullpen. The starter gives the team all he can, and then you turn it over to the guys who are supposed to close it out.
Fernando Rodney let the game get away, and in extremely frustrating fashion, considering that the Blue Jays didn't hit the ball out of the infield. Of course, he didn't help himself with how he chose to play Jason Smith's bunt. Ideally, you'd like a pitcher to field his position, but if the infielders are in a position to make a play - which Sean Casey and Placido Polanco were - then Rodney should've let them do what they normally do. Chalk it up to heat of the moment, perhaps, but it was a bad decision that cost the Tigers the game.
Several decisions could be questioned after losing a game like that, and I wonder if Leyland outsmarted himself a bit by trying to stack the top of the lineup with guys who have had success against Halladay. As you might imagine, Leyland disagrees and doesn't care what anyone else thinks. Of course, after seeing how Halladay pitched, it's difficult to fault Leyland for wanting to try anything he could to give his team a fighting chance.
What he and anyone following the Detroit Tigers has to be encouraged by, however, is knowing that the kid he picked to be his pitching staff's ace showed last night that he is ready for the challenge and won't back down against anyone.