Jeremy Bonderman (0-0, 2.25) vs. Kelvim Escobar (1-1, 3.18)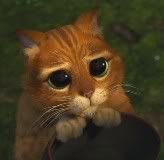 I didn't see any shots of Bonderman on the Tigers' telecast last night, but I can imagine him looking up at the scoreboard, and all those runs they gave Mike Maroth, with puppy dog eyes. Maybe he can stop by the locker of each batter in today's starting lineup and give them that same look.
Outside of a shutout, no-hitter, or perfect game, I'm not sure you can realistically expect Bonderman to pitch better than he has in his last two (maybe three) starts. And the dude has zero wins to show for it. Not only that, he hadn't even had a lead to work with until the seventh inning of his last start. This is on the verge of becoming cruel and unusual punishment, and Bondo's just far too young a guy to suffer such an ordeal.
On the other side, Escobar is fresh off a stint on the 15-day disabled list, due to irritation in his right shoulder. He pitched well in his two previous starts, giving up only two runs in each effort and striking out nine batters in 11 innings. Escobar has also enjoyed mucho success against the Tigers in his career, running up an 8-0 record and 2.10 ERA.
Possible Stat of the Day: Last season, in three starts on the west coast, Bonderman allowed only five runs (and 14 hits) in 21 2/3 innings against the Angels, A's, and Mariners.
Short Hops:
▪▪ Kurt takes a closer look at Sean Casey's hitting struggles at Mack Avenue Tigers.
▪▪ Mike McClary (who was at The Big A last night to cheer on the Tigers) mourns the loss of his favorite author, a sentiment I most definitely share with him and plan to write about today or tomorrow.