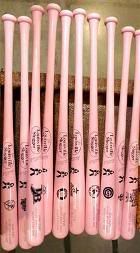 I imagine that many of you are taking your mothers out for brunch as I type this. (I'll be taking mine to dinner this evening, lest you might think I'm some kind of swine opting for blogging over treating the woman who gave me life.) And if you are a mother reading this, Happy Mother's Day to you.
▪▪ Jason Beck wrote a piece on Craig Monroe and his mother at MLB.com. (You might remember Craig's mom best from last August in New York, when C-Mo hit that home run off Scott Proctor, then pointed to her as he crossed home plate).
▪▪ Today's Detroit Free Press has a feature on Curtis Granderson and some gifts that he's given to his mother. (He also blogged about his mom, and the gift he decided to get for her this year.)
▪▪ Granderson, Monroe, and several other Tigers will be among the many major leaguers swinging pink bats in their game today to raise awareness and funding for breast cancer research. Others bringing pink bats to the plate will include Magglio Ordonez, Gary Sheffield, Placido Polanco, Marcus Thames, Sean Casey, and Neifi Perez.
▪▪ You can buy a pink bat of your own here. $10 from the sale will go to the Susan G. Komen for the Cure Foundation. Game and autographed bats will later be auctioned off for charity at MLB.com. Or, of course, you could just make a donation.
And here are the non-Mother's Day related links for the day:
▪▪ Did you know Phil Nevin, who played for the Tigers from 1995 through 1997 announced his retirement on Friday? (I didn't, until I read Tyler Kepner's blog about it.) Unfortunately, Nevin didn't become a major league hitter until after he left Detroit...
▪▪ If you haven't already read or heard about this, you might be interested in Jeff Passan's feature on Mike Marshall, who believes that his teachings and training methods could save a lot of pitchers from elbow and shoulder injuries. Many of Marshall's ideas - such as heaving iron balls and attaching wrist weights to arms - seem wacky to those accustomed to more conventional coaching techniques. But most notable is the pitching motion that Marshall teaches:
With a wrist weight ranging from 15 to 30 pounds tethered to their pitching arm, they swing their pitching arm straight down like a pendulum, lift it over their ear and follow through with a hard pronation, turning the wrist outward with the thumb pointing down.
Marshall is convinced these actions can help save baseball from one of its great scourges. The rest of the motion is simple. No leg kick. No rotating the hips back toward second base. Facing the hitter, the pitcher steps with his glove-side foot and rotates his other leg with such fury his back almost ends up parallel to home plate.
One of Marshall's students, Jeff Sparks has tried out with the Detroit Tigers in each of the last six years, but hasn't been able to catch on. Is it because his fastball was clocked at 83 m.p.h and he's 35 years old? Or is it, as Sparks thinks, a conspiracy against Marshall, who holds a Ph.D. in kinesiology, but is considered a quack by most baseball people?
In his "Under the Knife" column, Baseball Prospectus' Will Carroll thinks there's definite value in what Marshall is teaching and preaching, yet also points to an undeniable, illuminating fact: that virtually none of his students have been able to make a major league roster. (The only exception is the Dodgers' Rudy Seanez, who credits Marshall with not only rehabilitating him, but adding to his velocity.)
▪▪ Tim Marchman of the New York Sun thinks modern-day starting pitchers get a bad rap for only going five or six innings these days, compared to their predecessors of 30 and 40 years ago. Saying that pitchers today are too coddled is a far too simple and dismissive argument.
▪▪ If you're at all curious what it might take to pry Brad Lidge away from the Houston Astros, the price is apparently a starting pitcher or outfielder. (If Lidge has turned himself around, however, I wonder if having a good-to-great bullpen means just as much, if not more, to a team than a good-to-great starting pitcher.)
▪▪ Richard Justice of the Houston Chronicle thinks there's too much noise around the Astros for a deal not to be made soon. However, Lidge isn't one of the names he mentions as a possible trade candidate.