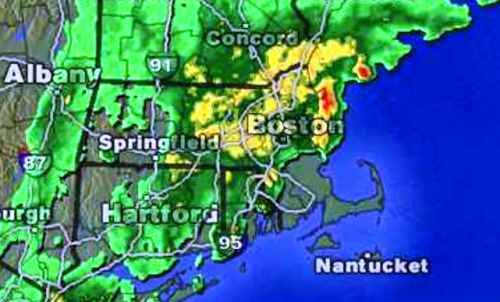 As you can see, the greater Boston area is covered by some kind of amorphous green blob (not to be confused with The Green Monster, of course) with various flecks of yellow and red in its center that appears to be raining water down upon the city. Under such conditions, those in charge have decided that a baseball game cannot be played.
So tonight's game between the Detroit Tigers and Boston Red Sox will be pushed to tomorrow afternoon as part of a day-night doubleheader. The first game will be at 12:35 p.m. EST, and the second will be played at the regularly scheduled time of 7:05 p.m. EST. Mike Maroth and Julian Tavarez will go in the afternoon, while Chad Durbin and Curt Schilling face each other in the evening.
Short Hops:
▪▪ Here's what the Boston press thought of Verlander's performance last night. (via The Cutoff Man)
▪▪ Who in the hell is "Dwight Inge"? The Daily Fungo has more.
▪▪ Take 75 North has the latest on the Tigers' minor leaguers.