This weekend, we get a World Series rematch at Comerica Park. And when the Tigers and Cardinals played for the championship last season, I often checked out Viva El Birdos to see what the scuttlebutt was from the other side. Since the World Series, I've kept reading VEB because it's just a really good baseball blog that provides a lot of information for its readers. Now that I'm part of the SB Nation brood, it's great to be able to tap a colleague on the shoulder and ask for some insight on a Tigers opponent. Here's what lboros had to say about the St. Louis Cardinals.
----------
(1) Detroit is so in love with baseball right now that I think many of us believe that the Tigers actually won the World Series last year. Are you able to confirm that the Cardinals actually defeated the Tigers, and were thus awarded the championship? That wasn't some kind of delusion, was it?
The way this season has gone so far, you'd have a hard time convincing many St. Louis fans that our team won anything, ever.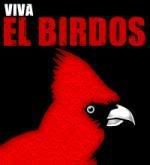 (2) On a much more serious note, the Cardinals have been confronted with a great deal of injury and tragedy in a relatively short period of time. Might this be too much for them to overcome, or do you feel like there's plenty of season in which to turn this around?
There's no shortage of season in which to turn it around, but there may be a shortage of ability. Although Hancock's death continues to weigh on the Cardinals (see this story, which ran yesterday), they had plenty to worry about even before that happened. To be brutally honest, the loss of Carpenter for 4 months was a bigger blow than the loss of Hancock.
(3) The Cardinals' management has been taking some criticism from writers like Ken Rosenthal and Jon Heyman recently. Do you think that's fair? Has the front office not been proactive enough with infusing some more youth into the roster or is it just too tough a call to give up on veterans who might still have something left?
The Cards' front office obviously wasn't perfect this off-season. But whatever missteps they made are dwarfed by the sheer failure of players to meet expectations. Rolen, Pujols, Edmonds, and Carpenter have a combined VORP of minus 8.8. No scout or GM could have predicted that type of collapse; PECOTA didn't see it coming either. If just two of those four guys were at or near their 2006 production, the Cardinals would be at about .500.
I addressed Heyman's article at length in the second half of this post; Fire Joe Morgan also shredded that article. It's a poorly reasoned article; Heyman chided the Cards for failing to re-sign Jeff Weaver (and his 14.00+ era), for God's sake. Rosenthal's article does highlight some important issues regarding the dynamics of the front office; there's some tension between the old-school guys are the sabermetric guys, and changes may be in the offing.
I do think it's a fair criticism to say the organization was unimaginative this off-season, bringing back nearly the entire roster from an 83-win team. It's also fair to say the Cardinals have allowed the lineup to grow old and stale. But that's not something that just happened in the span of one off-season; it has been a four- or five-year trend. And since the team has played in two World Series and four LCS during the last five years, you can argue that the tradeoff has been worth it. Moreover, you can't get young unless the farm system produces; the Cardinals haven't emphasized player development for a long time. That's changing, but it will take time.
(4) From afar, Tony La Russa has seemed preoccupied with the media this season, almost to the point of looking to pick fights. Is that accurate? And if so, what might be the underlying reason? Does he feel like he should get something of a break since his team won the World Series last year?
I'll never understand TLR; I think he doesn't want to be understood. Half of the crazy things he does are deliberate mind games, and the other half are just manifestations of his intensely competitive nature, but you can never know for sure which explanation applies to any given act of insanity. Additionally, La Russa got a DUI toward the end of spring training, which embarrassed and humiliated him; that might also explain some of his defensiveness. And I think he is frustrated with the organization's turn toward a player-development emphasis. Tony is impatient; he wants to win now, not two or three years from now.
(5) What direction would you like to see the team go for the rest of the season? Should they try to do all they can to compete in the NL Central or consider trading away players like Jim Edmonds, Scott Rolen, or Jason Isringhausen to overhaul the roster and replenish the farm system?
Can't answer that yet. As awful as they have been, the Cardinals are only 3 games out of 2d place in a weak division, and they have a pretty easy month of baseball coming up. After this weekend's rematch vs the Tigers, 19 of their next 28 games are against sub-.500 teams. I'd like to see where the team stands at the end of that stretch (ie, by the middle of June). If they've battled back to .500 or thereabouts and have closed to within 5 or 6 games of the Brewers, then it wouldn't make sense to give up. But if the Cards haven't made up any ground by then, I think it will be time to start playing for next year. Unfortunately, they won't find it easy to dump their veterans. Edmonds, Izzy, and Rolen are all 5-and-10 men, meaning they can veto any trade. And Edmonds and Rolen have expensive contracts that might make them untradeable in any case. If Braden Looper is still pitching well, he might be an attractive pickup for somebody.
-----------
Thanks again to Viva El Birdos for playing "Blogging With the Enemy." On a personal note, lboros has been really helpful to me since I signed on with SB Nation, and I appreciate that.
It's always fun to see the Tigers play a "classic" team like the Cardinals, even if it wasn't a World Series rematch. And as a baseball fan, I've always enjoyed watching the Cardinals, and look forward to seeing guys like Edmonds, Rolen, and Pujols, even if they're struggling a bit right now. (I hope they don't get well fast against the Tigers.) About three years ago, I finally got to see a game at the old Busch Stadium, and it was some of the most fun I've ever had at a baseball game. I was really envious of the atmosphere the Cards fans created. But now that the Tigers are playing well, it's great to see Detroit take up some of that same spirit.
UPDATE: You can read my answers to VEB's questions about the Tigers here.