Cleveland Indians. Detroit Tigers. It's AL Central Thunderdome at Comerica Park this weekend. Two teams enter, one team leaves. Both have been fighting for first place in the division for most of the season, and this series presents an opportunity for either the Tigers or Indians to create a little bit of space between them. And most of the country will get a chance to tune in for two of the three games.
So what better time to chat with Ryan from SB Nation's Cleveland Indians blog, Let's Go Tribe?
----------
(1) Has the Indians' first-place performance surprised you? What do you think has been the biggest reason for their success so far?
The performance hasn't totally surprised me; this was supposed to be a pretty good race anyway between the top four teams in the division. You're always surprised in how, though, because there's always individual performances that are unexpected. Biggest reason thus far? The offense has been the best facet of the team, but that was good last year. The bullpen has been better (which isn't difficult considering how bad it was last year), and the infield defense has improved; both areas were black holes last season.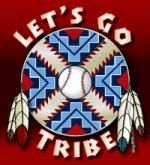 (2) Do you think the Indians will continue to be patient with Jeremy Sowers, or has his time in the starting rotation about run out? And how much might Adam Miller's recent finger injury influence such a decision?
I think they'll give him until at least Jake Westbrook comes off the DL. He pitched much better last night against Kansas City, although he's still not getting any strikeouts. Miller's injury takes away much of the speculation, though, as he was the most viable immediate replacement.
(3) Andy Marte has been injured, but even before that, he was off to a rather disappointing start. Is the Cleveland front office still pretty high on him as a prospect, or might they just try to get by with Casey Blake at third base until a better option presents itself?
I think he's still in their plans. He still has an option left, but they don't want to burn it yet, so they're platooning Blake and Marte for the time being. The Indians weren't expecting much offensively from Marte, so I think they'll be extremely patient with him.
(4) What's the feeling on Joe Borowski as Cleveland's closer? Does the team (and its fans) seem fine with his performance? If not will someone already on the roster - such as Roberto Hernandez, Rafael Betancourt, or Fernando Cabrera - step in? Or would you prefer the Indians to make a deal for someone like Chad Cordero?
For the short-term, he's the closer. He's had his meltdowns, but he's been converting most of his save opportunities. I think they will look very hard at landing at least another setup man this July, as the bullpen, while it's performed better than last season, still has some holes in it. Fernando Cabrera is pretty much unusable right now, and Roberto Hernandez hasn't been much better. If they need to go with someone else at least temporarily at closer, it would be either Rafael Betancourt or Tom Mastny. Chad Cordero would seem a nice fit, although Jim Bowden usually asks for the Sun, the Moon, and four or five planets for his players.
(5) Following up on that to an extent, what sort of move would you like to see the Indians make by July? What area is in most need of upgrading?
Bullpen is the most obvious area, though things can change between now and July. Maybe another middle infielder, as that's an organizational weakness.
-----------
Thanks to Ryan for taking the time to answer those questions on relatively short notice.
This should be a pretty fierce weekend between Cleveland and Detroit, with the Cavaliers and Pistons also matched up in the NBA's Eastern Conference Finals. (Which game will you choose on Sunday night?) It's going to be a lot of fun. Especially if Joe Borowski blows it at the end for the Indians like LeBron has for the Cavs. Boo-yah!