This weekend, Quo Vadimus' Scott Warheit (also familiar to Tigers fans as The Cutoff Man for MLive.com) decided to focus his outrage over the Yankees' Robinson Cano leading Placido Polanco in All-Star balloting for the American League's starting spot at second base into an organized campaign.
Despite being one of Major League Baseball's biggest disappointments so far this season, the New York Yankees continue to do well in fan voting for the 2007 Major League Baseball Star Game, with three players (Derek Jeter, Alex Rodriguez, and Robinson Cano) leading the voting at their positions. Detroit Tigers fans and fans of baseball need to do something about that, because while Jeter and A-Rod may deserve a trip to San Francisco to start for the American League, certainly, Robinson Cano does not. And Placido Polanco of the Detroit Tigers certainly does. Polanco,
as of last count
was some 8,000 votes behind Cano (381,051 to Cano's 389,265 votes) which is why we need to start the
"Go to the Polls for Placido!"
All Star Voting Campaign [...]
I don't need much convincing to get behind that. Polanco starting at second base for the AL All-Star team might not be the definitive home run call that it may have been early in the season. I think you could make cases for Brian Roberts, Aaron Hill, or Ian Kinsler. But Polanco has been Steady Eddie (or should that be Eddie Constante) throughout the entire season, even back in April when seemingly no one on the Tigers was hitting.
The same was true last season. You can argue that the Tigers showed little statistical evidence of suffering greatly when Polanco was lost to a shoulder injury. But I think there are some things in baseball that just transcend statistics, and Polanco's steadying influence on the Detroit Tigers is one of them.
It's a surprise when Polanco has a hitless night. That's only occurred 15 times this season. Out of 57 games played. That's 26%, people. And I think it's a fair bet to say that even when he didn't register a base hit, Polanco did what he could to move runners and set up scoring opportunities. Or if someone is in a position to score, Polanco might just drive that runner in himself. He's batting .424 with runners in scoring position. If he's facing two outs in that situation, Polanco's still hitting .310. Whatever needs to be done to win a particular game, Placido Polanco is more (much more) often than not doing what's necessary.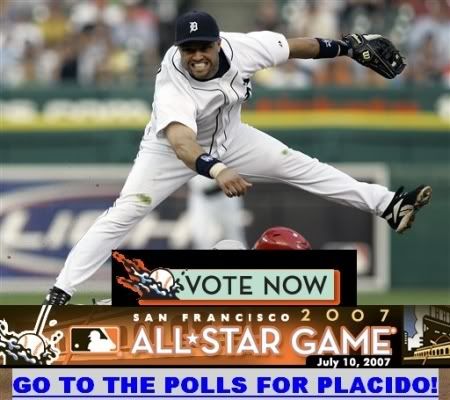 This is speaking your piece for a guy that deserves the recognition. This is standing up for your team that warrants representation in the sport's showcase exhibition. (And it's also keeping a New York Yankee down, a fringe benefit that really shouldn't be overlooked.) Rise up and let your voices be heard, Tigers fans. Spread the word through Digg! Vote so much it can't be ignored. Polanco in 2007!
[image courtesy of Quo Vadimus and the 2007 "Go to the Polls for Placido!" campaign]