On his blog, Curtis Granderson writes about the bird attack on Comerica Park this week. He may also be faced with following a very unusual (and potentially smelly) pre-game routine with a dog, if superstition compels him.
So is this photo of Bondo during batting practice yesterday one of the best of this season or what? (Of course, we love Samela's photoshop job on it.)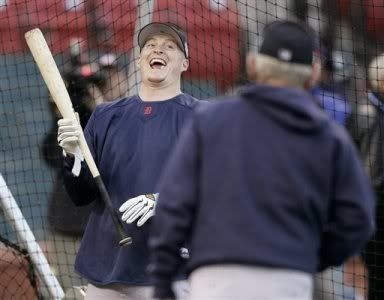 Fernando Rodney says his arm is fine. He's watching tape of himself to figure out what's wrong. He and Chuck Hernandez have to be two of the few who can even bear to look at that footage.
Following up on Roman Colon's fight with teammates in Toledo, a police report has been filed by the wife of Jason Karnuth, whose face was smashed in the altercation. Any questions about the severity of Karnuth's facial injuries were answered rather decisively by his agent, Mike Mosa.
"The injury is worse than everybody thought," Mosa said. "His right eyeball is being held in place by his sinus cavity."
[...]
"His face was crushed," Mosa said. "It's devastating to sit there and have a plastic surgeon say that you need to have a titanium plate, with screws, placed in your face."
In more pleasant minor league news, Kenny Rogers made his second rehab start last night, this time with the West Michigan Whitecaps. Rogers allowed one earned run in five innings (76 pitches). Take 75 North has the minor league recap, and The Surge has a first-hand account, complete with photos.
Today's Philadelphia Inquirer has a feature on Justin Verlander, and the prospects of him joining Johnny Vander Meer tonight. There's also a brief lament that Verlander won't be matched up against Cole Hamels tomorrow. Man, that would've been sweet.
Also in the Inquirer are more thoughts on the Placido Polanco trade, this time from Charlie Manuel. Basically, he confirms what everyone else has said: The Phillies would've rather dealt David Bell, but his contract (four years, $17.5 million) was untradeable.
Shane Victorino's two-run homer off Tim Byrdak last night scored $1,000 for a lucky Phillies fan.