Okay, I already went into my second-tier love for the Washington Nationals yesterday and won't subject you to that again. But another reason I was excited for this series was the hope that I'd be able to swap five questions with a Nats blogger. And Sweet Jeebus, there are a bunch to choose from. (Not all of them have kept at it, though. I suppose that happens.)
Fortunately, I'd already had something of a professional relationship with Basil, the commander-in-chief of Federal Baseball, thanks to some quips we traded about Neifi Perez back in March. Those were some good times. (Little did I know that Basil was already aware of Neifi's prowess with the bat.)
So how about we learn some more about your Washington Nationals?
----------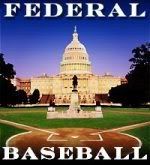 (1) The Nationals have a losing record, but they haven't been as historically bad as some predicted before the season. Was it silly to presume the Nats would be that awful, or have they been playing better than could've been expected?
It was silly. Prior to Opening Day, Buster Olney reported the scouts' pool had the Nats losing as many as 130 games. That's not even silly; it's a recreation of the open of A Scanner Darkly.
Anyway, without going all dork on you guys, here's why it's silly: It's really hard to juggle the math beforehand to get to a point where a team can realistically suffer "an historically bad season." Those seasons do occasionally happen, very rarely, but you guys obviously know the drill -- '62 Mets, '03 Tigers, even '04 D-Backs, if you want to stretch the definition. But, given the relationship between runs scored and runs allowed, how do you even manipulate those totals prior to the season to get a team in range to come anywhere near that kind of futility? Believe me, I tried, and it's tough to do.
So, in order to get close to the Pythagorean records of the '62 Mets and the '03 Tigers, the Nats would have had to have allowed something like 75-90 runs more than they did last season. And last season's pitching staff sucked! The nominal "ace," Ramon Ortiz, was essentially replacement level. I don't care how substandard the starting rotation seemed coming in, it couldn't have been that much worse than the '06 rotation anchored by Ortiz, Tony Armas, Mike O'Connor, and Pedro Astacio.
And that was only half the equation, the pitching. As for the offense, it was losing Soriano and, functionally speaking, Nick Johnson. But would those two losses cripple the team's offensive production so far to enable historic badness? For about a month at the start of the season, the offense was once-a-generationally-bad in terms of runs scored, and the Nats were on a Mets/Tigers pace (9-25). But that's the kind of offensive sub-futility it would have taken, and it wasn't to last.
So for the past month, the team has now been probably playing over its head. A 120-loss pace is now a 65 or 70-win pace. I think I picked 66 wins coming in. That might not happen, but anything much worse than 100 losses isn't going to happen either.
(2) How much credit would you give Manny Acta for the team's play thus far? And with over one-third of the season now played, what are your thoughts on him as a manager? Strengths, weaknesses, etc.?
I'm not sure how much credit to give Acta, because that kind of description really seems more within a sportswriter's domain, but I quite like him. I don't know if that feeling is based on anything he's actually done as manager, or if it's more of a confirmation bias type of thing. Acta is young and energetic blood (a far different feel than the presence Frank Robinson reportedly had on the club), and he is at least conversant in the sort of statheady vernacular that makes bloggers like me say sweet nothings to our keyboards. You might have seen his quotes prior to the season about not wasting outs by bunting early in the game or attempting to swipe bases recklessly.
Acta's most notable influence thus far seems to be a balancing of affirmation and accountability. Take Ryan Church, a respectably talented outfielder in his late 20s who was a big part of the '05 Nats' early rise to the top of the NL East but whose status on the club sort of stalled thereafter. He had some injuries in the second half of '05 (including one, a broken pinky toe, that was obliquely mocked by the club via the press), didn't adjust well to the bench after the Preston Wilson trade, and then spent much of '06 bouncing up and down from the majors all the way to Double-A and back to the majors again.
The MLB/Bowden/Robinson regime was prone to things like this. No matter how much Church contributed to the situation, the club suffered from a severe lack of organizational cohesion during the first two seasons in Washington on a much broader level. The biggest change the sale to the Lerners and Stan Kasten (collectively, "the Lernastens") brought about was stability. There is one "Plan" the organization lives by now, and whether that's more disciplined planning than puffery or vice versa, Manny Acta projects a far more professional air than the team had on the field before.
Reportedly, one of the things Acta did over the offseason was contact Church and tell him he had a place in the lineup as long as he produced. Church isn't the type of guy to build around or include in long-range plans, but he's a guy in his "theoretical prime" who wasn't even arbitration-eligible. It makes sense for a team with a reduced payroll to utilize guys like him. So Acta affirmed him. But he also held him accountable. When Church failed to run out a grounder late in April, Acta benched him in-game. Church got the message, and the incident was over that day, with no after-effects. Same thing happened to Felipe Lopez recently.
So it seems Acta commands his players' respect, both positively and punitively, and that's a pretty good start to a managerial career.
(3) Dmitri Young had such a rough season (to put it kindly) last year in Detroit, but seems to have turned himself around, and is among the NL leaders in batting average, on-base percentage, and OPS. Given that he only signed a one-year deal for less than $1 million, will he be in another uniform by August or do you think the Nats will keep him around until Nick Johnson comes back (whenever that might be)?
I would hope so, yes, by August or at the latest by midnight August 31. It doesn't seem like Young left Detroit on good terms, but he's been an exemplary citizen for the Nats. The turnaround he's made has been phenomenal, and not just from last season to this season. I'm talking last month to this month. About five weeks ago, he was battling a foot problem and hitting in the .220s. Since then, he's been unconscious.
When the Nats signed Young, the first base situation became sort of awkward. Johnson was out (though no one really knew for how long; Johnson's recovery has been slower than anticipated), and it was presumed pseudo-prospect Larry Broadway would get a clean shot. Broadway wasn't terrible in spring training, but he wasn't showing any power. He's had a rough go since his demotion, and I wouldn't think he's in the team's plans any longer. So, the next option might have been Kory Casto, the team's most advanced upper-level prospect. Casto's been a third baseman (now blocked by Ryan Zimmerman) and outfielder in the system, and there were reports of him fielding grounders at first base. But he has option years remaining, and the team broke camp with two other lefty-swinging corner outfield types (Church and Chris Snelling) who were out of options. There was also Travis Lee, who was around for his defense. But when Young marginally got himself into shape, relatively speaking, and arrived at the big league camp weeks later than the rest, he immediately started swinging a potent bat. The competition with Lee was over before it began.
Anyway, score a big one for Jim Bowden here. He took a flier on a guy with zero value, and he'll get something halfway decent in return. The Nats can't wait too long to pull the trigger on a deal, though. It seems likely the balls Young is flipping into left will find gloves sooner or later.
(4) Which player do you most expect to be dealt at the trade deadline? Or do you think Jim Bowden might ask for too much, as he did last year with Alfonso Soriano, keeping guys like Chad Cordero and Jon Rauch in Washington for the entire season?
Young, Ronnie Belliard, and Ray King were the short-termer veterans brought in expressly to be traded when the time was right. I don't know what you could get for them, but it's worth noting the Nats got a pretty good pitching prospect for Mike Stanton last year. Boston was reportedly hot for Cordero during the spring, or maybe that was a byproduct of Bowden being hot for Wily Mo Pena. I'm guessing he could be dealt, and no matter how much he makes Nats' fans sweat (then again, don't 80% of the closers out there do the same?), he has to be considered a Proven Closer(tm) by now. Put him in the wrong home park, though, and he could be mauled. I could see Rauch getting dealt; he replaced Gary Majewski in the hard-working non-closer role, and Jesus Colome is on track to replace him. Funny how those type of guys come out of nowhere, isn't it?
Incidentally, I think Bowden gets an unfair rap for the whole Soriano thing. I've never seen a firm report of exactly what was offered, and the Nats were in the midst of hiring Mike Rizzo, who had a very good draft record with Arizona. Unless an offer blew then away, it seems reasonable to try to take Rizzo's draft-fu for a spin. Plus, there's Kasten's influence to consider, as the perception seems to be that he's become a bit of Bowden's keeper in terms of big decisions. For what it's worth, Kasten strongly indicated in an interview with a Nats fan site that he put his foot down on a Soriano trade. So it might be that Bowden is criticized for not doing something he would have done but for Kasten.
(5) This is a safe place for you. Please tell us: Who's your favorite former Detroit Tiger? DaMeatHook, Robert Fick, or Nook Logan?
Oh, Meat Hook without a doubt. The way he's going, he could roll out of bed and go 3-for-4. (He looks like he's just rolled out of bed when he plays the field, too.) And he's got this hilarious habit of flipping off his helmet on the base paths, 60s or 70s or 80s-style, presumably in an attempt to make it look like he's got a need for speed.
I'm loathe to be too hard on Fick, who's caring for his terminally ill mother at this point, but in some respects it's amazing he's still on the team's roster. He's versatile (first, corner outfielder, third catcher) but bad. It's hard to imagine him as a veteran influence, but I guess that's his ticket. In the same series, Church was disciplined for dogging it, Fick bunted into a horrible double play. But he wasn't pulled from the game (there was no one left to replace him, for one!), and Acta later distinguished the play as a mental error rather than a lack of effort. He'll tolerate the former but not the latter. That's a little angels-dancing-on-the-head-of-a-pin for some, but I suppose it's a sign that Fick's role is secure.
I love Logan's type of player, but he's not really a good representative of the type, to say the least. MASN, the team's regional sports net primarily owned by the idious Peter Angelos, plays these ridiculous smack-talk ads highlighting upcoming series. ("What you gonna do, Johan Santana?") I can't decide between two of them as to my favorite. It might be the Austin Kearns one, which notes with way too much enthusiasm the Duh! truth that he hits better versus lefties (platoon advantage!) but homers more versus righties (more at-bats!). Or it might be the Nook Logan spot, which explains how Nook's speed game absolutely terrorizes opposing defenses. ("Third basemen hate Nook Logan.") Gotta love ad campaigns focusing on waiver bait!
-----------
Thanks to Basil for playing "Blogging With the Enemy," and for going above and beyond when it came to providing some thoughtful, informative answers. It's been fun exchanging e-mails over the past few days.
Please check out Federal Baseball if you get a chance. And even after this series has finished, and you're not a Nats fan, there is plenty of good baseball blogging over there worth your time. Basil does a great job.