You probably know this already, but in case you don't, ESPN2 is giving you a chance to watch Mike Maroth's first game with the St. Louis Cardinals tonight. It'll be a bittersweet sight, but I'll be making a point to tune in. And it just occurred to me that I didn't often look forward to one of Maroth's starts.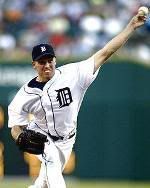 I'm not saying that to take a shot at the guy. It's just an observation. Maroth doesn't have the matinee, "you gotta watch!" appeal of a Verlander, Bonderman, or Miller. I can't speak for other Tigers fans, but I kind of took Maroth for granted. I watched because he was pitching for my team. And this year especially, I often marveled at how he won games and pitched deep into them while giving up so many hits.
Tigers fans have a soft spot for those who suffered through the slog of the historically bad, 119-loss, 2003 team, and fought through to enjoy the team's revitalization. And Maroth bears what's probably the most distinct individual mark from that season, with 21 losses on his record.
As embarrassing as that number seems to be, however, it obviously shows that Maroth stuck it out. He didn't ask out of the rotation to spare himself a big, round number of losses. He didn't fake an injury. Maroth went out there and pitched because his team needed him, and frankly, he had to show Dave Dombrowski that he was worthy of sticking around. That's what 2003 was all about.
(Plus, by racking up 20+ losses, Maroth made Brian Kingman and his stupid voodoo doll shut up and go away, and we should all be grateful to him for that.)
Ultimately, I think Mike Maroth's Detroit Tigers career can be summed up by a sentence I hear a lot when people talk about him: "Man, I feel sorry for the guy." There's sympathy for the aforementioned 21 losses, of course. But there's more heartache from the knowledge that he was never really able to enjoy Detroit's turnaround on the field.
He was a big part of the Tigers' eye-opening start last year, but an elbow injury forced him to become a bystander. It looked like he would eventually come back, and I'm sure he expected to. During one of my (now defunct) magazine assignments last season, Maroth returned to the team and I heard him say as much to both reporters and fans. Unfortunately, that elbow kept him out for the rest of the season, and perhaps most painfully, the post-season.
Of course, it's a good thing that Maroth became expendable this season. It means that the Tigers' starting rotation (and overall pitching staff) has gotten even better. But it's also a little bit cruel, because you'd like to see a guy like this be able to enjoy the success he helped to establish.
Many of us were surprised to learn this weekend that Maroth has a blog. (Hat tip to Roar of the Tigers and Mack Avenue Tigers) But that's also kind of indicative of how we perceived Maroth. We knew he was there, and we appreciated his efforts. We just never followed them as closely or celebrated them as fervently. On that blog, however, he reminded us how classy he's always been:
So many people doubted me and our team during the hard times a few years back but the Tiger fans never lost hope. You stood by us and cheered for us to go back out on the field and just keep fighting. That's what Tiger fans do, they don't quit.
[...] Many people outside Detroit would always ask me how I liked it in Detroit. I said then and I will always say, it is a baseball town. It has some of the most loyal fans in the game who know and love their players. I will cherish my memories here and look forward to making a visit back to Detroit whenever that may be. Thank you so much for the support, the encouragement, and cheers that my family and I have received over the years. There is no way to express to you how deep our love for this city and Tiger fans everywhere is. We will always have a special place in our hearts for the city and fans of Detroit.
That's the kind of guy we should all root for, and I think it's what Detroit will remember about Mike Maroth. Best of luck to him in St. Louis.