The announcement just came over the wire. Today's game between the Rangers and Tigers has been postponed due to rain. It'll be made up as part of a day-night doubleheader on Tuesday, September 11.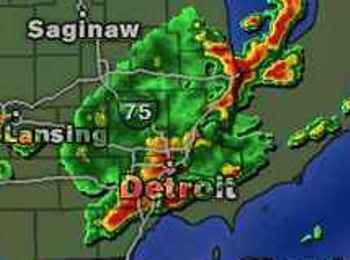 Why not wait until tonight? Probably because of the traffic snarl known as the International Freedom Festival fireworks taking over Detroit for most of the late afternoon and early evening. That was the reason for today's matinee start time to begin with.
Or maybe the Doppler radar indicates that the rain isn't going to let up and the fireworks will be postponed until tomorrow, too.
Short Hops:
▪▪ Only a man who's hitting as well as Carlos Guillen should be comfortable admitting that his favorite Starbucks drink is a strawberry frappucino.
▪▪ For those who missed it, turned off the game because the announcers didn't say "no-hitter," or stupidly deleted the thing from his DVR because he had more than one baseball game saved (I'm speaking hypothetically, of course), FSN Detroit is being berry, berry good to you.
The network will replay Justin Verlander's no-hitter on July 11, the Wednesday after the All-Star Game. The broadcast will be at 7 p.m. EST.