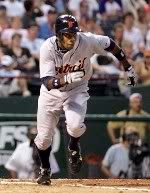 In last night's Game Thread, Ben asked what was more impressive: Sheffield's recent home run tear or Curtis Granderson's number of triples? Two last night gave him three over the last two games. As impressive as Sheff smacking the ball to virtually every part of Ameriquest Field's outfield, I think we might have to give the nod to Curtis and his triples. Especially considering the rarer nature of the triple and the excitement that comes with it.
And then I see this nugget from Billfer: Granderson's triples (12) are the most a Detroit Tiger has hit in a season since Larry Herndon hit 13 in 1982.
We're, what, roughly one-third of the way through this season?
Granderson is halfway to the American League record for triples in a season, held by a fellow Detroit Tiger, Sam Crawford, and a guy named "Shoeless" Joe Jackson (who was playing for the Cleveland Naps at the time). But even if he finishes just short, Granderson would find himself ahead of or tied with Ty Cobb on the triples list.
Even before his pace began to look record-setting after last night, Granderson was already hitting more triples than anyone had in 14 years, according to Tom Gage's game story:
Even when he had 10, Granderson was the first major leaguer to have that many triples in 58 or fewer games since Deion Sanders had 10 in 55 games for the 1992 Braves.
"It's all placement," Granderson said. "I'm hitting it to the right spots, the deepest spots, right now."
There's the humility we love. But Granderson's backing it up with numbers. It's why I don't feel like a total Tigers homer when adding his name to the "write-in" portion of the All-Star ballot. How many AL centerfielders (or outfielders, for that matter) are playing better than him right now?
We know that Comerica Park is already quite triple-friendly. But if Granderson is racking them up on the road as well, some records should probably go on notice. They could be getting broken.