Besides the three games between the Kansas City Royals and Detroit Tigers this weekend, there's some other cool stuff going on around the ballpark as the Tigers hold their fourth annual Negro Leagues Weekend Celebration.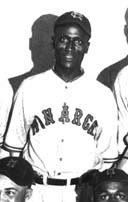 Earlier today, the Tigers honored Hall of Famer Norman "Turkey" Stearns with a plaque commemoration at Comerica Park. If you weren't at the ceremony this morning (11 a.m.), you can check out the plaque at the corner of Brush and Adams. Stearns will be honored on the field before tonight's game, as well. If you were there, share a comment with us. I'd love to hear more about it. (via The Detroit Tigers Weblog)
Also before the game, the Kansas City Star's Joe Posnanski will be signing copies of his book, The Soul of Baseball, at Gate A from 5:30 to 6:30. Having read a lot on the Negro Leagues, I expected the book to be mainly about Buck O'Neil's career, but at the risk of using a cliche, it's about a lot more than baseball. It's a really good read,and I wish I could be at the ballpark tonight to meet him. You can read a lot more - including some notes about tonight's signing - at Posnanski's blog.
Tomorrow, the Royals and Tigers will wear the uniforms of the Kansas City Monarchs and Detroit Stars in tribute to the Negro Leagues. And earlier in the day - at noon, to be exact - Henry Ford Museum in Dearborn will host a panel discussion titled "Jackie Robinson Breaks the Color Barrier - 60th Anniversary Forum."
Panelists will include the Tigers' Curtis Granderson, Ernie Harwell, former Tiger Gates Brown, author Lawrence Hogan, and Della Britton Baeza, the CEO of the Jackie Robinson Foundation. A film about Robinson will also be shown, and there will be a question-and-answer session with the panel afterwards. Admission to the forum is free and will run from 12 p.m. to 2 p.m.