After the first day of internet voting for the final spot on the AL All-Star Team, the Tigers' Jeremy Bonderman is the leading vote-getter. (Think that performance on Sunday Night Baseball had anything to do with that?) It's a close race so far, however, and the other candidates should make a big push.
The Twins' Pat Neshek, for example, started up a MLBlog (which is the same as his regular blog) to rally support for his cause. And the entire nation of Japan is expected to send in votes for Boston's Hideki Okajima.
As I said yesterday, if I wasn't a Tigers fan, my votes might go toward Okajima. Maybe I'd favor Bonderman, based on his career thus far, but I think it'd be kind of cool to see a middle reliever get some All-Star recognition - especially when those types of players have never been more important. (Don't hate the voter; hate the game.) But since we're talking about the Detroit Tigers here...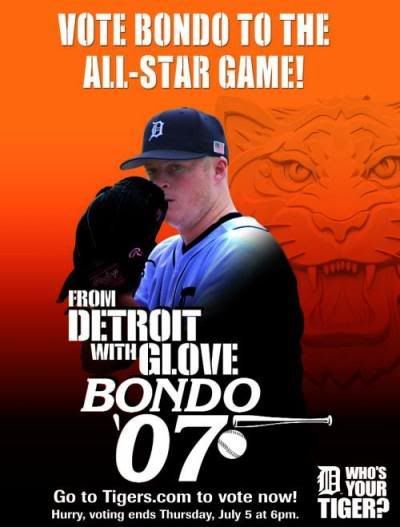 Voting is open until 6 p.m. Thursday. Disregard my attempts at objectivity.
Vote often! Vote Bondo!