Brandon Inge apparently doesn't like this to be publicized (and I can understand why), but some of you probably remember him donating $100,000 to the University of Michigan's C.S. Mott Children's Hospital shortly after he signed his four-year contract extension with the Detroit Tigers.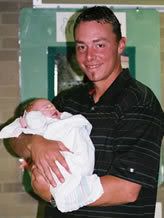 My mother is a nurse at Mott, and I know that donation is a big reason why Inge is my mother's favorite Tiger. (She hasn't been able to score any face time with Inge upon any of his visits, but that's okay. He's there to see the kids. Besides, Mom's still star-struck from meeting Lloyd Carr last fall.)
Yesterday's Ann Arbor News ran a feature on Inge's visits to Mott, which includes a very touching story about someone that inspired him to give his time and energy to the children who stay there at the hospital.
The Mott Children's Hospital website has a photo gallery of Inge and several of the children he spent time with, along with their families.
Inge's donation will go toward building a play area for the pediatric cancer infusion clinic that will be part of the new C.S. Mott Children's Hospital and Women's Hospital, set to open in 2011. But that activity area needs a name, and from now until September 1, kids can submit essays or drawings with ideas. Inge and his wife will then pick the top five entries, and people can vote for the winner online.
You can find more details about the contest, called "Up to Bat With the Inges," here and here.
And if you're interested, there's also plenty of information at the site regarding how you can help by volunteering, contributing money, or donating blood, organs, and tissue.