I don't have much analysis to offer, as I didn't get to watch as much of the game this afternoon. However, I didn't miss the part that mattered. Magglio Ordonez flexed his muscles for the kind of feat that often seems to happen for some other team. But today, Tigers fans watched one of their guys get the big highlight of the day. Maggs took Dallas Braden deep not once, but twice in the second inning. No Detroit Tiger has done that in 52 years.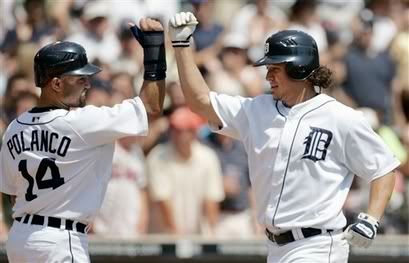 AP Photo
And the last guy that did it has a statue honoring him in Comerica Park's left-center field concourse. (I think it's amusing that the current Tigers don't realize just how good Al Kaline was. If you watch the "Tigers Live" or "Tigers Weekly" shows on FSN Detroit, did you see Brandon Inge's reaction when Shireen Saski told him that Kaline was the Tigers' all-time home run leader? "Kaline is?!?" Hilarious.)
I don't think I'll ever get sick of watching Magglio hit balls to left-center over the visitors' bullpen against an Oakland pitcher. It's one of the beautiful things this life gives us. The Tigers scored eight runs in that second inning, and from there, it was pretty much "Game over, man! Game over!"
I'm not sure we ever need to see Todd Jones doing that dance he was doing in the dugout ever again. But it's nice to see him happy, and sometimes you just need to dance as if no one's looking. You know what I'm sayin'?
And thanks to the New York Yankees, the Tigers have now regained first place in the AL Central. Enjoy the rest of your Sunday night.