Sure, sweeping these two games (and leaving town with a two-game lead in the AL Central) would've been fantastic. But splitting with the Indians wasn't so bad, given that a "flu-like virus" has half the team feeling the sick. (Pop some echinacea on the way to New York, fellas.) Taking that into consideration, along with a 21-year-old rookie starting pitcher tonight, and it was a pretty solid "attaboy" effort. Pats on the back for the guys tonight. Or, if you so choose, a consoling hug.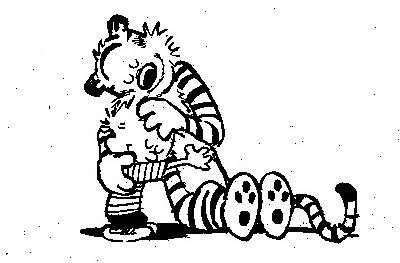 Jair Jurrjens may not have given the Tigers a "quality start" if you strictly go by the defintion, but it was good enough. Not good enough to win tonight's game, obviously, but a better effort than some of the starting pitching the Tigers have had to endure lately. The kid probably stays in the rotation for now, especially after Andrew Miller showed he might not be ready to return to prime-time tonight. If someone else had been pitching for Detroit tonight, he probably would've taken the loss too, as Fausto Carmona was outstanding for the Indians.
(By the way, the Tigers struck out 12 times for the second game in a row. Even if they did face the Indians two best pitchers, that has to be a concern going into four games with the Yankees.)
Dear Bullpen: STOP WALKING IN RUNS
There will be no hug, however, for Bobby Seay, who took his turn with the gas can out of the bullpen. If you were a Cleveland Indians batter facing Seay tonight, you probably got on base. (Unless you were Grady Sizemore.) Dude was like a turnstile tonight. Granted, one of the walks was intentional, to set up a double play. But c'mon, man - if the other team is going to score a run, make 'em put the bat on the ball. Loading up the bases and walking in a run is Jason Grilli territory. Even Grilli knows that.
Two close, well-pitched games should be a good warm-up for the New York Yankees. The Tigers' focus seems to have sharpened against their closest competition. Maybe that was the "extra charge" they needed. And the Yankees go into tomorrow night limping a bit, after losing their last two games to the Orioles.
I Need a New Schedule Maker
For some reason, my vacations seem to directly correspond with any series in which the Detroit Tigers play the New York Yankees. Last October, I was in Hawaii during the first round of the playoffs, and I had to content myself with listening to games through my (test marketed) cell phone while touring the island of Oahu. Could've been worse, I suppose. But this year, just as the Tigers and Yankees are set to play again - in an extremely important regular season series - I'm off to visit family in the South Carolina lowcountry. And the test run on the cell phone that can tune in MLB Radio is long gone.
As sneaking away while I'm supposed to be getting to know my sister's fiancé and his family probably will not be seen as acceptable, I'll have to catch highlights on "Baseball Tonight" or view boxscores online. (Eating my way through the culinary nirvana that is Charleston will be some consolation.) I can only assume that the Tigers will be playing the Yankees early next season, as my sister will be getting married in April.
But for the next week, Bless You Boys is in excellent hands, as your old friend Mark returns to take care of his former baby that he nurtured so well. Keep coming back to give him some company, as the Tigers hopefully give us reason to stick out our chests and strut. I'll see y'all back here in a week.