It's been a while since we played "Blogging With the Enemy" here at BYB, so dusting it off before what's possibly the Tigers' biggest series of the season seemed like a good idea. We haven't seen the New York Yankees since the Tigers eliminated them in the first round of last year's AL playoffs. That was one hell of a celebration, with the team spraying champagne into the crowd and posing for pictures. Jim Leyland even smiled when he was hoisted up on the players' shoulders. Really, the only thing sweeter could be a World Series celebration, right?
The Yankees didn't look like they'd be part of any playoff race in the first couple months of this season, but as you know, they've caught fire in a big way, and are probably the one team that truly scares Tigers fans as we shift into the pennant drive. And the two teams will get very familiar with each other over the next couple of weeks, with eight head-to-head match-ups.
You might remember jscape2000 posting a diary that proposed a Marcus Thames-Kyle Farnsworth trade back in June. He's a regular over at Pinstripe Alley, and has chimed in over here occasionally with comments (which I most definitely appreciate), so if I was going to talk to anyone about the Yankees, it would be him.
----------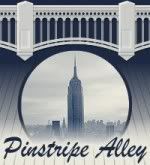 (1) The Yankees have cut 10 games off Boston's lead in the AL East, and are the hottest teams in the majors right now. In your mind, what are the primary reasons for the Yankees' turnaround?
I see a few changes. The first is that the left-handed batters who underperformed in the first half (Damon, Cano, Abreu) have found some life. Connected to this is the Yanks improved defense since Melky took over the job as the starting centerfielder.
There is a part of me that doesn't see this as a turnaround, but as a correction. Two months ago (June 12), the Yanks were at .500, but had scored 50 more runs than they'd allowed. You'd expect a team that good to be 10 games over .500 at that point. The difference was in a combination of bad luck, bad bullpen management, and a terrible record in one-run games that hasn't continued, thanks in part to shipping away a few of Torre's bullpen toys (Myers and Proctor).
(2) For so many years, the Yankees have been able to fill key holes by bringing in a veteran player. This year, however, they'll be depending on younger players - such as Melky Cabrera, Phil Hughes, Joba Chamberlain, and Ian Kennedy - to make their playoff drive. Does that make Yankees fans nervous or are they excited at this change in philosophy?
Thrilled doesn't begin to cover it. Of course, you can find the occasional sports writer who will argue that a "gritty" like Luis Sojo or a "veteran" like Jesse Orosco could save the team. But Yankee fans have watched the success of teams like the Tigers, A's, and Twins who have succeeded by developing young pitching. We have the most money, but not an unlimited amount. Pitching is too expensive and too rare to find on the free agent market (see: Zito, Barry).
A crop of young, cost-controlled players could make the Yankees the team to beat for the next decade.
(3) Kyle Farnsworth is now buried in the Yankees' bullpen behind Joba Chamberlain and Luis Vizcaino. But we know he has cleared waivers and there was reportedly some interest in making a deal with the Tigers. Do you still expect the Yankees to trade Farnsworth by the end of the month?
To the disappointment of all Pinstripe Alley, I don't expect Farnsworth traded till the offseason. To his credit, Cashman has proven that he won't give up major league talent without getting back something to stock the farm.
Should the Yanks make the postseason (knock on wood), if Farnsy makes the roster, I will eat my hat. And post pictures.
(4) How much turnover do you expect to see with the Yankees after the season? Joe Torre might be gone and A-Rod could opt out. Bobby Abreu and Jorge Posada will be free agents. And maybe Jason Giambi and Johnny Damon will be asked to leave. Will most of these guys be back or do you expect the Yankees to have several new faces next year?
I think this is Joe's last year no matter what. Too many people within the organization feel his "circle of trust" approach to bullpen [mis]management is dangerous to the golden arms on their way. At this point, I think A-Rod works out an extension and stays. The Yanks could give him more money anyway - add on a share of the money Texas is paying and it becomes a ton. Cashman has said very clearly that if A-Rod opts out, he's done as a Yankee.
Mariano and Posada will be back. We'll give them too much money for too many years, but there are no other options.
Abreu is an interesting case. I think he will be back next season, the question is at what price? We hold a $16 million option, which is not as steep as it looks when compared to Ichiro's recent extention. If Cashman has time to work out an extention for more years but fewer dollars, he should look into it (though there are PA readers who would disagree).
The new faces will be in the pen and the rotation. Hughes, Joba, Ian Kennedy (IPK), Chris Britton, Edwar Ramirez, Ross Ohlendorf, even Alan Horne will make their cases to be included on the big league roster (some will make stronger cases than others).
(5) Right now, the Yankees look near-unstoppable, scoring a bunch of runs and getting great pitching. But what could prevent them from making the playoffs? What aspect of the team has the potential to go wrong between now and October?
The Tigers and the Red Sox, whom we play 8 and 6 times, respectively. Good pitching and a strong offense. And Joe Torre.
Our pitching is not great, and Torre deserves consideration for the worst tactical manager in the league. The only trustworthy relievers in the pen are Mariano, Vizcaino, and Joba, but Joba is on special usage restrictions (a day off for every inning pitched). What is infuriating for Yankee fans is that the pieces for a great bullpen are in the minor leagues (Edwar Ramirez, Chris Britton, maybe even Ross Ohlendorf), but Joe Torre doesn't trust rookies and once he decides there is something not to like about a pitcher, that pitcher will never be used in a big spot.
A quick example - Edwar made the team. Pitched an inning and struck out the side against the Twins. Three days later he pitched against the West-leading Angels: 1.1, 2H, 1BB, 1K, 1R. 14 Days Later he came in with a man on second and two outs. He couldn't spot his fastball, walked a bunch of guys, gave up a grand slam, got sent down. If Edwar gets to pitch again this season I'm sure it will be in a mop up role. Meanwhile, Kyle Farnsworth is still on the team.
We hold our breath every time Mussina is on the mound; Pettitte and Clemens seem to be wiggling out of jams every inning. We need our offense to keep rolling because even with our improved pitching, we still have just an average staff.
----------
Thanks to jscape2000 for providing some insight from the Pinstripe Alley community. Please stop on over there if you get a chance. And hey, start some stuff over there, too. Remind them about Craig Monroe's home run last year at Yankee Stadium. And he hardly even plays anymore! And of course, there's that playoff thing to bring up, too.
Man, I wish I wasn't missing this series.