So what exactly is going on in this picture?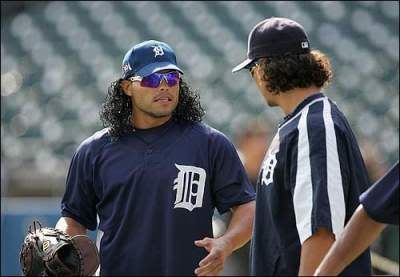 Is Pudge Rodriguez making fun of Magglio Ordonez's flowing curly locks? Or is he auditioning for CB4? If it's the latter, he's going to need some gold fronts.
To those of you who stuck it out last night/this morning, Curtis Granderson thanks you on behalf of his teammates.
Since I'm still in a Tigers-free zone, this makes me pretty happy: Tomorrow's Tigers-Yankees game can be viewed for free on MLB.tv. Why? It's MLB.tv's fifth anniversary. (via The LoHud Yankees Blog)
Scott Boras is already trying to set the market for Pudge Rodriguez and Kenny Rogers.
With Gary Sheffield out indefinitely, the Tigers might be looking to deal for a hitter, according to Jon Paul Morosi. Unlike last year, they won't be able to bring in Matt Stairs, who was blocked on waivers.