Yesterday, the rosters for the Arizona Fall League were announced. Some of those squads could change, depending on whether or not teams choose to keep players on their post-season rosters. But seven Detroit Tigers prospects are tentatively set to play for the Peoria Saguaros, teaming up with players from the Dodgers, Padres, Marlins, and Phillies organizations.
The Tigers' Arizona seven are as follows: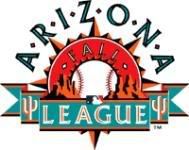 Pitchers -
Eddie Bonine, Erie
Jeff Gerbe, West Michigan
Jair Jurrjens, Detroit
Dallas Trahern, Erie
Infielders -
Michael Hollimon, Erie
Jeff Larish, Erie
Outfielders -
Cameron Maybin, Detroit
The AFL season begins on October 9. You can check out the schedule here.
Over at Take 75 North, Matt has some more thoughts on the Tigers' choices, along with comparisons to the group the Tigers sent to Arizona last year.