So is Kenny Rogers going to get well any time soon? *
I'm just checking, because... damn.
Andrew Miller looks like he's at about the end of his 2007 run. Since returning to the Tigers after healing up his strained hamstring, Miller has had two bad performances. Tonight, he was brutal. In just 2/3 of an inning, Miller gave up five runs, five hits, and two walks (both of which were hit batsmen). It was like watching a hot dog explode in a microwave oven.
And for a while there, it looked like Miller might not record a single out. (Really, he only got one out, as the second out of an inning came on a pick-off throw by Pudge Rodriguez to second base.) None of his secondary pitches were working, so the Royals could just tee off on his fastball.
Do we have an actual image of Miller's meltdown? Well, it's become something of a regular feature here at BYB.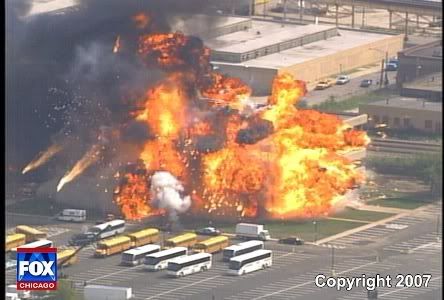 Okay, that's actually a still photo of an old factory in Chicago that was blown up for the new Batman movie. But since Kauffman Stadium is surrounded by a parking lot, the resemblance is probably uncanny. (via Pop Candy)
The bullpen pitched 8 1/3 innings of shutout baseball, which could be sort of a silver lining in this dark, smoky cloud of a game. And that kind of effort was enough to keep the Tigers competitive. At least it could've, if the lineup had been able to generate any offense. (And Detroit crushed Zach Greinke earlier this season.) Timo Perez went 2-for-3, arguably making him Detroit's offensive player of the game. Does more need to be said? (And does this mean we'll be getting more Timo Time?)
I've continued to be optimistic throughout this past month of bad baseball we've been subjected to. But good teams don't take three out of four from the New York Yankees and then follow that up with losing two straight to the Kansas City Royals. Regardless of whether or not the Royals are a team to be taken seriously, the Tigers should be beating them if they're one of the best teams in the American League. Beating good teams and losing to bad ones is something we're used to seeing in Detroit from the Lions. At least that's how it was before Matt Millen took over.
Oh, and Cleveland won, so the Tigers are now 4 1/2 games behind in the AL Central.
* Rogers is due to pitch a three-inning simulated game on Friday. If that goes well, and Rogers feels ready, he could rejoin the starting rotation as soon as next week.