I meant to get to this earlier in the week, but it got lost in the shuffle of trade deadline news and rumors. But with the week about to end, I'd better get to it, and the Tigers' off-day presents a timely opportunity.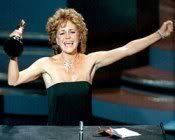 I need to pass along a gracious thanks to Abel to Yzerman for naming Bless You Boys its "Michigan Sports Blog of the Week." It was a completely unexpected surprise early in the week when I started noticing a generous amount of traffic coming from the Kukla's Korner wing of the blogosphere. And I was humbled and flattered by the kind words and effusive praise A2Y's captain, IwoCPO, wrote in regards to this site.
(This is actually double the pleasure, double the fun for me as A2Y gave my other sports blog, Sweaty Men Endeavors, the same honor last year. Trust me, it's just as sweet now as it was then - if not more so.)
However, he gives me far too much credit in putting together this site. As those of you know who have been reading BYB for a while, this ship was already sailing when I came aboard. I've tried to do all I can in making this a Detroit Tigers site worth your time and interest (and I hope you like the slight sidebar remodeling we spent most of today's free time on), but I most certainly didn't start this thing.
Also, as IwoCPO points out, I haven't really done much to tie in with this blog's name. And that's a fair point. I would say (and have said) that "Bless You Boys" is more of a nod to the last great Tigers team than any kind of mission statement, but maybe some 1984 stuff is something to think about for the off-season.
Several other fine Detroit sports blogs are listed on A2Y's post, too, so please give them a try if you click over there. (I believe each of them are listed in the sidebar to your left, as well.) They're funny, smart, and passionate, and should've been one of the reasons The Sporting News named Detroit the Best Sports City for 2007.
And if you haven't stopped by before, Abel to Yzerman is a fantastic Detroit Red Wings blog, and a terrific hockey resource, in general. I hate to admit it, but I've become a bandwagon hockey fan, and my interest didn't kick in until the playoffs this past season. But scrolling through a couple of months of A2Y brought me up to speed fast, especially because IwoCPO's stuff is so entertaining.
Finally, if you found this site for the first time, thanks to A2Y, I appreciate you clicking over, and hope I can keep it entertaining enough for you to come back regularly.