Getting swept at home by a division rival. Five losses in a row. 13 losses in their last 17 games. This stinks.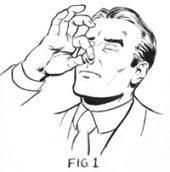 It's such a cliche, but the Tigers really are in one of those seemingly bottomless ruts in which nothing goes right. The pitching staff hemorrhages runs, and the lineup can't score enough to make up the deficit. Or the pitchers throw a quality start, but the hitters don't provide any run support. As Jim Leyland said, this team is "in a little bit of chaos." And the stench is getting bad.
Okay, while you're holding your nose and breathing through your mouth, Leyland shared some information about the starting pitchers for the next week. Chad Durbin will take Andrew Miller's spot in the rotation and start on Wednesday. Kenny Rogers' elbow still isn't feeling right, so Jordan Tata will stay with the Tigers and pitch on Friday.
On the hitting side, Gary Sheffield could return to the lineup tomorrow. And Sean Casey doesn't appear to be seriously injured from taking a pitch on his left elbow today.
(via Danny Knobler)