Aren't the fireworks supposed to take place on Friday nights at Comerica Park?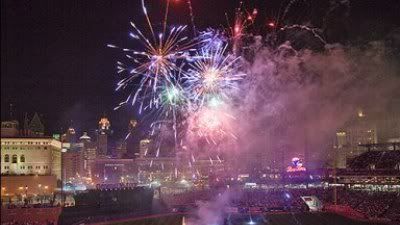 The Tigers looked finished going into the ninth inning. Roy Halladay had shut them down for eight innings, asserting his usual dominance over them. But even Mr. Complete Game gets gassed after throwing 123 pitches, and he didn't have much for the bottom of the ninth. It looked like a slick double play turn by John McDonald might bail Halladay out, but he just couldn't sit down that third batter. After Sean Casey and Brandon Inge both singled, Halladay was finally tapped out. Why John Gibbons didn't then opt for his closer, Jeremy Accardo (who blew a save on Saturday), might be a question he asks himself for the rest of the night.
Casey Janssen didn't look like a bad alternative, as he hadn't given up a run in his last five appearances. But you never would've known that, based on the difficulty he had in closing out this game. Curtis Granderson singled up the middle, driving in two runs, and all of a sudden, what was set to be a dull, uninspired loss surged with possibility. Placido Polanco followed up with a single, and Gary Sheffield toughed out a six-pitch walk to load the bases. (We'll overlook the fact that Sheff hasn't gotten a hit since coming off the disabled list.)
That brought up Magglio Ordonez, and I can't speak for all Tigers fans, but was there much doubt he was going to get a hit? Janssen couldn't get anyone out, and looked ready to give the game up. If there's one guy you want at the plate, it's your MVP candidate. And on the first pitch, Maggs showed exactly why he's had such an amazing year. Janssen threw it right down the middle and Ordonez hit it into the huge gap between first and second base. Granderson scored, followed by Polanco, who slid into home just before Alex Rios' throw got there. And even Jim Leyland couldn't contain himself, bounding out of the dugout like a little kid on the last day of school.
It might be too late to say that's the kind of win that could be that moment in a playoff race. If it is, this is a game we'll be talking about years from now. For tonight, however, it was one sweet win. All one-night stands should end so well.