If you read USA Today Sports Weekly regularly, you might be familiar with the "Bloggin' Baseball" series of interviews they've been running throughout this season.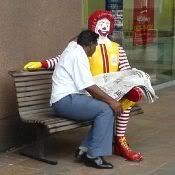 I've enjoyed seeing bloggers I know and read, particularly SB Nation brethren such as Royals Review, The Good Phight, Brew Crew Ball, and Bleed Cubbie Blue, get some attention from the big media. Of course, I always held out a little bit of hope that I might be featured in that space someday, but it's not exactly the sort of thing you can ever expect.
Well, this summer has been very good to me and BYB. A writer from USA Today contacted me a few weeks ago while I was on vacation, and as you might imagine, I made sure I got back to him quickly. The finished product is in this week's edition (Sept. 12-18) of the magazine with Armageddon Appalachian State's Corey Lynch on the cover. My interview can be found on page 43.
If you don't happen to stroll by a newsstand this week, the article is also posted at the USA Today website. Here's a link for you.
Thanks to Devin Clancy for choosing BYB for the series and tracking me down for an interview. Whittling through my long-winded answers surely created more work than he needed.
More importantly, I'd like to thank every one of you who takes the time to come by and read BYB each day. Hopefully, the Tigers' season won't end in a couple of weeks, but looking at the calendar has reminded me of just how fast the last six months has whizzed by. I wasn't quite sure what to expect when I took over here, but it's been more fun than I could've imagined, and the readers of this site have everything to do with that. I'm also really grateful to the Detroit Tigers blogosphere, populated by some of the coolest people I've ever met. I consider myself lucky to be a part of it, and this past week has most certainly affirmed that feeling.
(Man, these off days make me sappy. I need some games to be played before I go all Sally Field on you people.)