Yorman Bazardo (1-1, 3.00) vs.
Johan Santana (15-11, 3.09), 7:10 p.m. EST
Bazardo vs. Santana looks like a total mismatch of starting pitchers. You know it, I know it, they know it. People who aren't even going to watch this game probably know it. This is Bazardo's first major league start, while Santana has started in 172 Major League games. But I'm actually kind of excited about Bazardo going for the Tigers tonight. Why? How?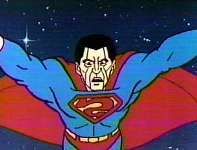 Well, it has nothing to do with how he'll pitch tonight. I just want to use the image of Superman's arch-enemy, Bizarro, that I've had sitting on my computer for weeks now. Thus, here it is.
Bazardo pitch terrible for Tigers! Me am lose to Twins tonight!
(Just in case you're not well versed in geeky things, that's Bizarro-speak for "I'll pitch well for the Tigers! I'm going to beat the Twins tonight!" See, he lives in a completely opposite world. Many of my friends are covering their faces in shame right now. So is my mother. That pride from the USA Today thing didn't last very long.)
Santana hasn't been as great as he has in previous seasons, and accordingly, the Tigers have played him pretty tough recently. In four starts against Detroit this year, Santana has a 1-2 record with a 3.12 ERA.
[I apologize for putting up the game thread a bit late. I thought it was an 8:10 p.m. start this evening. Apparently, so does Fox 2 in Detroit, since they're still showing Yankees-Red Sox, despite a blowout 10-1 score.]