The long wait is over. Sam has posted her collection of photos from Tuesday's 2nd annual (and unofficial) Tigers Blogger Night at Comerica Park. (Okay, she posted them a couple of days ago, but I'm only getting around to it now.)
I took a handful of photos, as well, though they pale in comparison to Samela's work. (Such modesty on my part didn't prevent that little meanie from making fun of my smaller camera. Hey, I'm sensitive about the size of my lens, you... bully. My mom likes my pictures.)
In attendance were Billfer and his dataport (you'll have to ask him about that), Mr. Big Ten Hardball, the aforementioned Samela, Matt of Take 75 North, Eric from D-Town Baseball, and Josh Wallen from The Daily Fungo crew. (Not all of whom are pictured below.) No giant pink daiquiris were consumed (though maybe the chilly weather had something to do with that). All thanks to Bill for putting this thing together. It's always fun to get together with friends and fellow bloggers at a ballgame. Next time, we can hopefully get more readers involved, as well.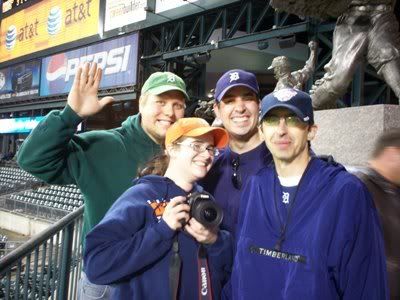 Absent but thought of fondly were Brian from TigerBlog, Kurt of Mack Avenue Tigers, Lee from Tiger Tales, Daily Fungo patriarch Mike McClary, and other Detroit sports bloggers such as Big Al. Someday, we'll be able to conquer geography and prior commitments to get us all in the ballpark for one sweet blogger pow-wow. And innocent bystanders will surely wonder "Who the #@$% are those guys?"
You now have the opportunity to put faces to the names of your favorite Detroit Tigers bloggers. I am the moron who forgot to look at a weather report and went to the ballpark in a t-shirt and shorts in 50-degree weather. (But I impressed all with my knowledge of Lionel Richie songs.) For some reason, I've been sneezing the last few days.
Oh, and the size of my head can totally be blamed on Sam's wide-angle lens. Yep.