I tried to put this off (maybe because I just couldn't handle the truth), but the reality can't be ignored anymore. If the Tigers weren't finished after last night's loss, the Indians surely knocked them out tonight.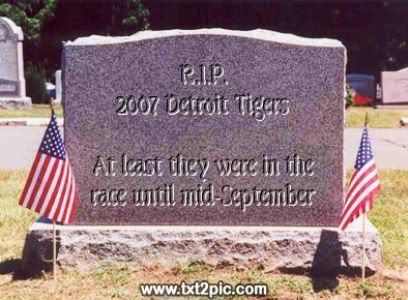 Detroit beat Jake Westbrook like that bass drum John Adams hammers in the Jacobs Field bleachers, banging out 12 hits in five innings. Should that many hits have driven in more than four runs? Probably, but those hits didn't go for extra bases. Another runner getting thrown out at third base (for the third game in a row) certainly didn't help. But Jensen Lewis also kept the Tigers from posting any more runs with three no-hit innings after taking over for Westbrook.
Even if the Tigers had managed one or two more runs, however, Justin Verlander couldn't stop the Indians from blasting the ball out of the park, and that was really the difference in the game. The Tribe hit four home runs (new career record) off Verlander, two of them in a back-breaking bottom of the sixth. And both of those shots - by Victor Martinez and Franklin Gutierrez, respectively - were no-doubters. Whatever Verlander throws, it just seems to find the sweet spot on those Cleveland bats.
So this leaves Detroit 6 1/2 games behind Cleveland with 10 games left to be played. The Indians' magic number is 5. And just in case you were still optimistic about the Wild Card spot, the Yankees hung a 12-0 score on the Orioles, which puts them 4 1/2 ahead of the Tigers. It's just about time to get some dirt on your shovels. The 2007 season is ready to be buried.
Since We Can Now Talk About Next Season...
Is Ramon Santiago (3-for-4 tonight, 6-of-10 in the last three games) the Tigers' starting shortstop in 2008?