If you need a little taste of Tigers-related stuff to get through today's off-day (others might feel the need for a full 36-48 hour break), Curtis Granderson will be a guest this afternoon on ESPN's "Rome Is Burning."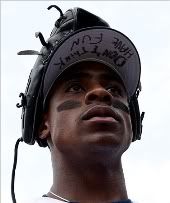 Hopefully, Curtis brings a fresh "take" and doesn't "flame," lest he be attacked by "The Clones" tomorrow in "The Jungle." Maybe he'll lay down the "smack" if Rome talks about C-Town knocking out D-Town.
(Did I get any of that right? I usually listen to or watch Jim Rome in one to two minute intervals, so my perception might be outdated. Obviously, I'll tune in longer today.)
The show airs on ESPN at 4:30 p.m. EST.
Granderson is also one of Sports Illustrated's eight choices for baseball's best dressed player. I'm not exactly sure how people supposed to judge that, since we usually just see these guys in their team uniforms. But SI has provided some photo evidence to aid in your decision.
Speaking as a totally biased Tigers fan, I must say that Curtis looks pretty dapper in his pinstripe suit. (Then again, my attire of choice is usually a hooded sweatshirt and jeans, so I'm probably no expert.) Plus, he doesn't make any douchy hand gestures in his pictures, like Manny Ramirez, or pseudo-flamenco poses, a la A-Rod.
So, like, vote often - vote Curtis.