Well, it's taken a day (two days, really) to digest my heaping plate of humble pie, and I think I'll use the blog here to cleanse my palate before moving onto the final nine games of this 2007 Detroit Tigers season.
Let me start off by first admitting that I was wrong. Yes, I was wrong - dead wrong - about those Cleveland Indians. As I took over the helm here at BYB and started to think about how I saw the 2007 season playing out, I asked several friends and fellow bloggers what they thought about the Indians. I didn't see it, I'd say. I don't get why everyone's picking them to win the AL Central.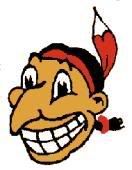 As I wrote back in April, I saw a starting rotation with C.C. Sabathia and four question marks. Or perhaps more specifically, three #4 starters and musical pitchers for that fifth spot. How much did Paul Byrd really have left? And was the bullpen really going to depend on Roberto Hernandez and Joe Borowski?
I wasn't too sold on Cleveland's lineup, either. Yes, they had three of the best everyday players in the division - if not the entire American League - with Grady Sizemore, Travis Hafner, and Victor Martinez. But what about the two corner outfield spots? Platoons in both left (Dellucci/Michaels) and right (Nixon/Choo) field? If you're playing two or three guys at a position, that means you don't have that one guy who can hold it down. (Tigers fans know that all too well, unfortunately, after watching the revolving doors at left field and first base this season.) Third base was a question mark, pending Andy Marte's continued development. And Jhonny Peralta was coming off a bad year, in which he looked out of shape.
Obviously, things worked out quite a bit differently in the Indians' favor. Fausto Carmona went from atom bomb closer to fifth starter out of spring training to one of the best starters in the American League. And Byrd... well, I'm not sure I have an explanation for his success, other than he's not walking anybody and all the hits he gives up are neutralized by a terrific defense. But combined with Sabathia, the Tribe had a fearsome threesome that gave them a chance in most any series.
Left field was still a carousel of role players, but Franklin Gutierrez staked a claim on right field while becoming yet another formidable hitter in that Cleveland lineup. Josh Barfield flopped, but Asdrubal Cabrera came up to provide some stability, playing so well that I've seen some Indians fans say he should be moved over to shortstop next year. (I already couldn't stand Eduardo Perez on "Baseball Tonight," but knowing he was traded for Cabrera adds to my disdain for him.) Speaking of shortstop, Peralta bounced back strong, especially with the power numbers. And Casey Blake took over third base, while becoming a walk-off home run hitting machine.
But perhaps most importantly, that bullpen became near impossible to score on in the late innings. Hernandez was given the Jose Mesa treatment, while Aaron Fultz and Rafael Perez became decent middle relievers. Rafael Betancourt was the lock-down set-up man that Detroit lacked virtually all season long. By the time Borowski (who's Todd Jones, except he strikes out batters) came in to close out the ninth, the game was almost a moot point.
Most every one of the Indians' questions became answers, the sum total of which became enough to surpass Detroit in the AL Central. They won at home and on the road (though not as dominantly as last year's Tigers). And not only did the Tribe beat the teams they were supposed to beat (8-2 against Tampa Bay, 6-3 vs. Texas, etc.), they stomped all over their division opponents. Cleveland has a winning record - and decidedly so - against every other team in the AL Central. (Compare that to the Tigers finishing below .500 against the White Sox and Indians.)
Over the next week or two, a lot of us Tigers fans and bloggers will probably be devoting a lot of air, voice, words, and space to figuring out exactly what went wrong with this team, why they won't be playing any games in October, and what changes need to be made for next year. But right now, with just over a week left in the season, it's quite apparent why the Indians were better. I was wrong. Mea culpa. White flag waved.