Matt Garza (4-6, 3.72) vs.
Yorman Bazardo (1-1, 3.24), 7:05 p.m. EST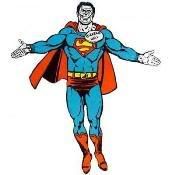 I don't know if the Tigers figured they wouldn't have to score many runs last night with Nate Robertson pitching so well against the Twins recently, but after getting shut out by Carlos Silva and Joe Nathan, they'll probably need to score some runs - any runs, really - to help out Yorman Bazardo tonight.
Bazardo is starting in place of Jeremy Bonderman, who the Tigers (thankfully) decided to shut down when he came back with soreness. after throwing a bullpen session. I'm happy to see Bazardo get the nod, and not just because I thought it proved nothing to pitch Bondo when he's coming off an injury and there's not much left in this season to play for. I also had one more picture of Superman's arch-enemy, Bizarro, sitting on my hard drive and wanted to burn that off before the season ended. So you go, Bazardo.
Bazardo pitch terrible for Tigers! Me am lose to Twins tonight!
And before you cover your face in shame for me, consider that Bazardo pitched well against Minnesota - and Johan Santana - last time I threw that Bizarro-speak out there.
On the other side, Matt Garza gave up only one run in 6 1/3 innings in his last start, versus a Texas Rangers team that we know can score some runs. And against the Tigers this season, Garza has a 2.84 ERA. Yet he lost both of those starts, as he was matched up against Twins killer, Nate Robertson.
With a loss or a win by the Yankees tonight, the inevitable will become official, and the Tigers will mathematically be eliminated from the AL playoff race.
Short Hops:
▪▪ Bid on Detroit Tigers memorabilia and help out a great cause. The University of Michigan is holding an online auction, the proceeds of which will fund the Pat Meloy Cancer Scholarship. The four-year scholarship will benefit a student at U-M's School of Kinesiology whose life has been affected by cancer.
Online bidding for auction items will begin on October 15. Plenty of sports memorabilia will be available, but if you're most interested in the Tigers items, those can be viewed here.
(via Mack Avenue Tigers)