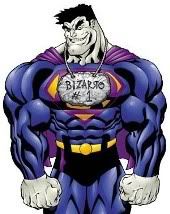 Yorman Bazardo showed last week that he could handle the Minnesota Twins' lineup, but didn't stay in the game long enough to earn the decision. He made sure that wasn't going to be a problem tonight. Bazardo pitched seven shutout innings, and unlike Nate Robertson last night, he received copious run support from his teammates. Altogether, it was an effort worthy of another picture of Superman's arch-enemy, Bizarro.
Bazardo pitch terrible for Tigers! Me am lose to Twins tonight!
This Twins' lineup isn't exactly full of mashers (they've been shut out more than any other team in the majors), so we probably can't get too excited about Bazardo keeping them off the board. But seven shutout innings is definitely a noteworthy effort from a guy who was throwing a fill-in start.
Apparently, That Heel Feels Fine
After I wondered earlier today if Magglio Ordonez's sore heel was affecting his power, Maggs went out and hit a two-run bomb to left field that blew the game open for the Tigers.
And not only did he go 2-for-4 to pad his lead over Ichiro Suzuki in the batting title race (blasting those hits go over the fence is a good way to make sure they're not caught), Ordonez also added three RBIs to his career-high season total.
Did Anybody Notice... ?
This probably isn't even worth mentioning, but did you notice that the umpiring crew for this series is the same one that was involved in that blow-up with Milton Bradley on Sunday? (If it was mentioned on TV or radio, I apologize for missing it.) It's too bad the umpires don't have to talk to the media before or after ballgames, because it'd be interesting to get Mike Winters' side of the story. I'm sure we'll be hearing some form of it in the weeks to come, however, as MLB decides how to deal with this situation.
Keeping Those Embers of Hope Burning
Dioner Navarro hit a walk-off home run in the bottom of the 10th off Jeff Karstens. No champagne popping for the Yankees in Tampa tonight. Their magic number remains at one.