It's kind of late after four hours of baseball, so the recap is going to be short tonight.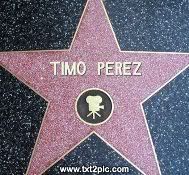 There was a lot of head-scratching, throwing up of arms, and groaning when Timo Perez was called back up from Triple-A Toledo last week. Pitchforks and torches were being dusted off when Jim Leyland insisted on putting him in the lineup (at the expense of Ryan Raburn and Cameron Maybin).
But I might be ready to become a believer. Timo's .440 batting average since rejoining the Tigers is rather persuasive. So is smoking a ball deep to the right-center gap to bring in the game-winning run, ending a game the Tigers seemed determined to let the White Sox win.
(By the way, one of the commenters at South Side Sox called a Timo walk-off before the game even started, so kudos for that prediction. Even if it was tongue-in-cheek.)
Losing this game would've been just a damn shame, as the Tigers sorely needed to get a win - let alone a win against these White Sox. It would've wasted a fine start (one run and two hits in five innings) from Kenny Rogers and a redemptive effort from the bullpen. And with the Mariners losing tonight in the Bronx, there was a chance to gain on them in the Wild Card standings.
We're long past the point of wondering whether or not a victory will be "the one" that turns this team around. So many false hopes have been crushed the next day. But winning the rubber game tomorrow afternoon would certainly help matters. So would having some confidence to build on with the Mariners coming to town.
But damn, this team needs to start scoring some runs. Gary Sheffield will be a welcome sight tomorrow.