Felix Hernandez (11-7, 3.96) vs.
Jeremy Bonderman (11-8, 4.73), 1:05 p.m. EST
Okay, the Tigers have already won this series by taking the first two games. And things are looking pretty good with a four-game winning streak. But I'm breaking out the Mortal Kombat graphics again because the Tigers shouldn't be settling for anything at this point of the season. If they have a chance to sweep a team, bring out the brooms and get to some dustin'.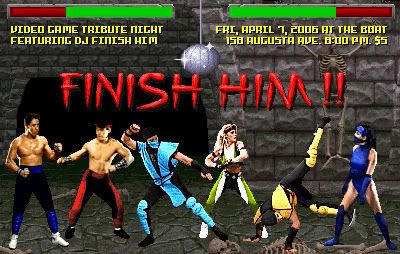 Jeremy Bonderman took a tough loss last time out against the White Sox. He probably pitched well enough to win, but without getting any run support from his teammates, Alex Cintron's two-run homer in the sixth inning was enough to tag Bondo with the loss. Bonderman's turnaround isn't quite at the same level as Justin Verlander's, but he's put together two decent starts in a row. Another quality outing this afternoon should be enough to beat the Mariners. Bonderman has a 2-0 record against Seattle this season, with a 5.54 ERA and 12 strikeouts in 13 innings.
Felix Hernandez has won five of his past eight starts, but like much of the Mariners' pitching staff, has that good start/bad start hokey pokey going on. His last start was outstanding, holding the Yankees to one run and five hits over seven innings in the Bronx. If Hernandez follows his recent pattern, however, he's due to give up some runs today against the Tigers. In his previous start against Detroit back in July, Hernandez got the victory despite giving up 10 hits in 6 1/3 innings. The Tigers could only put two runs on the board that day in Seattle.