When playing in the sandbox that is the Detroit Tigers blogosphere, many of us are bound to cover the same territory from time to time. And if you step away for a bit or are slow with the trigger finger, you'll quickly discover that your peers have already covered something you meant to write about.
That's kind of a long way of saying that a few other Tigers bloggers (for instance, The Detroit Tigers Weblog, Mack Avenue Tigers, and TigerBlog) have already responded to the Brandon Inge stories that have run in the local papers over the past week or so regarding his future with the team, and I'm not sure what else to add to the discussion. (EDIT: Big Al's chimed in on the subject, as well.)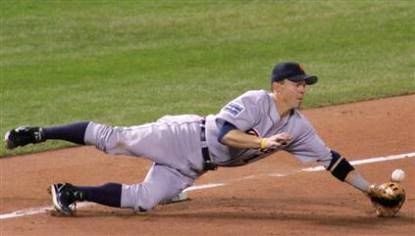 To me, Inge's fate brought a touch of bittersweet to the excitement over the Tigers acquiring Miguel Cabrera. I remember when I told my mother that getting Cabrera probably meant Inge would be squeezed out in Detroit, and she quickly looked surprised and sad. But Mom wasn't really thinking as a baseball fan. She works at Mott Children's Hospital and is fully aware of Inge's
contribution
to the facility and its patients. The idea of someone willing to give his time and money
to the community
being discarded because the team got a better player at his position didn't make a lot of sense to her, and I imagine plenty of other fans share that opinion.
Obviously, it's what happens on the field that matters most. But it's also nice to see things work out for good people. I had similar feelings last week after watching Lloyd Carr's last game with Michigan in the Capital One Bowl. Yes, I understood that it was time for a change in the Michigan football culture, and I'm extremely excited about Rich Rodriguez taking over as head coach. But Carr should be the kind of coach you want, someone who's as much an advocate for the school and what it offers as he is for the football program. Of course, that's not the world we live in.
But those who have frowns could have them turned upside down. This story could still have a satisfying ending for all sides involved. It's not necessarily a given that Inge will be playing in another city this season. As we've known since the end of the Winter Meetings last month, Inge could help some other major league teams, but they're not interested in paying the remaining $19 million on his contract. Not with the sort of numbers Inge put up last season. (.236/.312/.376, 14 home runs, 71 RBIs, and 150 strikeouts.)
So if the only way Detroit can make a trade is to eat most of that salary, why not keep him and take full advantage of his athletic skills? No, it's not ideal. The Tigers would be paying $6 million a year for a utility player. (That's more than the Angels pay their super-sub, Chone Figgins.) And from Inge's point of view, I can only imagine that it's rather embarrassing to see someone else take your position. That wouldn't be enjoyable in any profession. (Unless you hated your job, like Inge did when he was the catcher.)
But the Tigers wouldn't just let him collect a paycheck on the bench. Inge could fill in at five to six positions around the field. And it could be wishful thinking, but maybe his hitting will improve without the pressure of having to fulfill that contract. With a rejuvenated bat, along with versatility in the field, Inge would not only be helping the Tigers, but he might also become appealing to a team previously unwilling to deal for him in the offseason.
It would be nice to see Inge in that locker room spraying champagne after a Tigers World Series victory. And metro Detroit would definitely enjoy his continued presence in the community. Hopefully, such a possibility ultimately means more to him (and to the team) than possibly playing third base for a non-contender. If not, he's certainly earned the right to fight for a new start elsewhere.