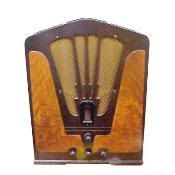 Last Friday, my dear friend Mis Hooz sent me a link to a site she found that has many audio clips from the older days of Detroit radio. The clip she e-mailed over was of WQRS' format change from classical music to alternative rock back in 1997. (Going from Puccini to Nine Inch Nails in a matter of seconds was surreal radio.)
The MP3 came from a site called Detroit Radio Flashbacks, where you can find all kinds of old jingles, commercials, skits, original songs, and personalities that have played on the Detroit airwaves over the decades.
Mis Hooz isn't a sports fan, so she wouldn't have clicked on the link that says "sports," but I certainly did. And included on that page are several highlights related to the Detroit Tigers. Unfortunately, there aren't many play-by-play clips posted (although some audio essays, such as Ernie Harwell's "A Definition of Baseball" are available). But if you remember many of the Tigers-related songs that have played on Detroit Radio, they have some nostalgia for you.
One of the songs, of course, is the "Bless You Boys" anthem from the 1984 season. I'd be neglectful if I didn't mention that. (I'll pass on including a direct link, however, as it goes right to the MP4 file.) It's a little bit of warmth for you during some frigid days here in the upper midwest.