Thanks to BYB reader Matt Adams for sending along some photos from his visit to Lakeland. I'm totally envious of all who have made the trek down to Florida to see their Detroit Tigers - especially on a day when it looks like I'll be shoveling snow - and appreciate the vicarious enjoyment. You can check out more of Matt's pictures at his Flickr site.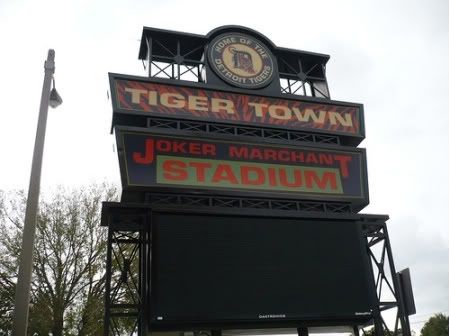 Today, the Tigers get to play another team for the first time this spring. The Moccasins of Florida Southern College provide the competition this afternoon at Joker Marchant Stadium. Al Kaline's grandson, Colin, will be playing at second base and batting ninth for the Mocs.
Jim Leyland will begin the game with his regulars, as he believes they owe that respect to the Tigers' tradition of playing Florida Southern and the kids taking the field for them today. Here's the starting lineup (via Danny Knobler):
C Pudge Rodriguez
CF Curtis Granderson
2B Placido Polanco
RF Magglio Ordonez
3B Miguel Cabrera
1B Carlos Guillen
SS Edgar Renteria
LF Jacque Jones
DH Brandon Inge
Todd Jones will start the game on the mound for Detroit, followed by Francis Beltran, Chris Lambert, Jeff Gerbe, Freddy Dolsi, Virgil Vasquez and Jordan Tata. (Take 75 North has more on the prospects that will be pitching today.)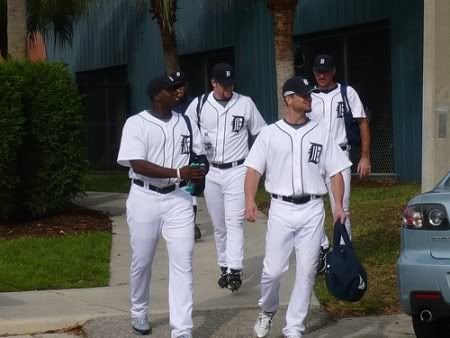 I'll also be curious about the game being played roughly two and a half hours away in Port St. Lucie, as the Michigan Wolverines - fresh off a crushing sweep of Villanova over the weekend - will be taking on the New York Mets. I attended the team's meet-and-greet last week on campus with Mr. Big Ten Hardball, and coach Rich Maloney was hoping his guys would get to face Johan Santana. No such luck, unfortunately.
Just feels a little warmer as we get closer to baseball season, doesn't it? At least that's what I'll tell myself while I'm outside working on my driveway.
(Photos by Matt Adams)