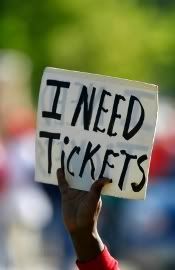 With individual game tickets going on sale this morning at 10 a.m., I thought I'd post an Open Thread for people to commiserate and share our experiences. It's like we're all in line together at Comerica Park, rockin' our wristbands!
Did you get the seats for the games you wanted? Were there any games that you were hoping for (Yankees and Red Sox, for example), only to find out no more tickets were available?
Did you have a hard time getting through to the Tigers ticket office, via either the phone or internet?
I'm a bit worried that I'll be detained around the 10 a.m. hour and won't have a chance to call or log on for tickets. Am I going to be frozen out this season? Will brokers like StubHub or (ahem) any of the other vendors advertising on the BYB sidebar be my only option after this morning?
Will the Detroit Tigers sell out the 2008 season today?
Your 2008 Detroit Tigers schedule can be found here. The Tigers Ticket Information Center is here, and information about single game tickets is also available.
Good luck to all of you. We're all counting on you.