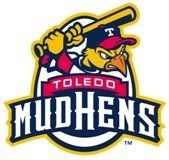 CNBC is hosting its second annual Minor League Logo Awards, which can be voted upon by fans up until March 31. (Voting opened on March 10, so I apologize for being a week late with this news.) Tigers fans have a horse in this race, as the Triple-A Toledo Mud Hens are a contestant in this tournament, and ranked as a #7 seed. (No respect!)
(However, I think I have to agree with CNBC's Darren Rovell - the man responsible for this thing - that the Montgomery Biscuits and Modesto Nuts should be considered prohibitive favorites.)
Also of local interest are the #9 seeded Lansing Lugnuts and #15 seeded Great Lake Loons, though they're affiliates of the Toronto Blue Jays and Los Angeles Dodgers, respectively.
I'll confess to a soft spot for the Charleston River Dogs, who have become something of an unofficial favorite minor league team of mine, as I usually catch at least one of their games a year while visiting family in South Carolina. As a #12 seed, however, I don't think I'll have to worry about any conflicts of interest between them and the Mud Hens.
You can vote on the match-ups and see the brackets at Rovell's SportsBiz blog at CNBC.com.
(Hat tip to MetsBlog)