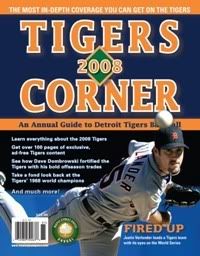 I'm a bit behind the rest of the Detroit Tigers blogosphere in making this announcement, but the 2008 edition of the Tigers Corner annual from Maple Street Press is now on sale, and should be available at bookstores and newsstands throughout the metro Detroit area.
Edited by Gary Gillette and Brian Borawski, the publication includes articles written by several Tigers bloggers whose work you're likely familiar with. I happen to be one of them, authoring a feature on Magglio Ordonez which compares his 2007 season to Norm Cash's 1961 campaign.
The book is largely a preview of what will hopefully rank among the more exciting Detroit Tigers seasons in memory. But it also covers the past, present, and future of the Tigers. In addition to looking back at last year, there are features on other important pennant races in Tigers history. Historical profiles of past players are also included. An eye is cast toward those prospects who could play an important part of Tigers teams to come. And the collection is topped off with statistics and projections that should provide some handy reference.
The Tigers bloggers included among the book's contributors are as follows:
▪▪ Bill Ferris of The Detroit Tigers Weblog
▪▪ Lee Panas of Tiger Tales
▪▪ Matt Wallace of Take 75 North
▪▪ Brian Borawski of TigerBlog
▪▪ Mike McClary of The Daily Fungo
Of course, it's a thrill to have some of my work in print, but I'm also flattered to be included among a talented group of writers whose passion for their favorite baseball team has resulted in this publication. I'm obviously biased, but it's a good-looking book and something we can all be proud of.
As I mentioned, Tigers Corner 2008 should be available at bookstores and newsstands throughout metro Detroit, including area Kroger stores. You can also order directly from Maple Street Press. The book is also listed at Amazon.com, though it's currently unavailable due to some confusion over its classification. Hopefully, that gets straightened out very soon.
Please check it out if you get a chance. And strongly consider it as a gift option for that special Detroit Tigers fan in your life (even if that means you).