Two days after saying that catching made him want to play third base, Brandon Inge attempted to clarify his feelings about donning the tools of ignorance once again. From the Detroit Free Press:
"I was just saying that it's going to be a process," Inge said. "I wasn't saying that I hated the actual catching. It was hard to separate offense and defense because I take pride in running the pitching staff."
Hey, we understand. Just because it might make him a crappy hitter doesn't mean that Inge won't play catcher for the Tigers. But if Jim Leyland wants to play him in center field, he's probably not going to say no to that. And that's indeed where Inge played today against the Philadelphia Phillies.
Put me in, coach - I'm ready to play [clap clap clap] today!
So we know how Inge feels about catching. How does he like center field? According to Jason Beck, it's all good:
"It's really common sense out there," Inge said. "It's almost like a golf game. Just figure out the elements and play 'em."
There's nothing wrong with a healthy case of self-confidence (though that's kind of been the problem with Inge lately). And Al Kaline thinks Inge could be one of the best defensive outfielders in baseball, if he got the chance. But maybe Inge shouldn't get too cocky until he does something like this: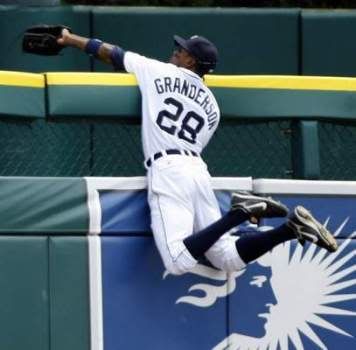 As we know, water covers 71% of the earth's surface. Curtis Granderson covers the other 29%. Just ask Wily Mo Pena.