After last night's Grilli-esque (which is almost an insult to Jason Grilli) eighth inning, Yorman Bazardo might have already packed his bags for Toledo. If not, he's probably the only one who didn't think he would be sent down to the minors. The Detroit Tigers designated Bazardo for assignment this afternoon, and he'll hand his roster baton to Clay Rapada, who comes up from the Mud Hens. This gives Jim Leyland the second left-handed reliever he's wanted since Tim Byrdak was released.
Maybe it's the impending NFL Draft that makes me want to use the word "upside," but I think there was definite hope and curiosity from both the Tigers and fans about Bazardo's talents, and his ability to contribute to a bullpen in need of good stuff. He had a rough spring, coping with the death of his father and nursing some tightness in his forearm. But if Byrdak hadn't been released and Francisco Cruceta's visa not kept him in the Dominican Republic, Bazardo probably would've begun the season in Toledo, anyway.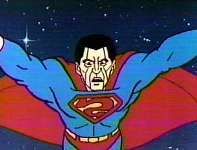 My theory, of course, is that "Bazardo" sounds just a little bit too much like Bizarro, whom we all know as one of Superman's arch-enemies. Bizarro is known for doing everything the opposite as we would do it, saying goodbye instead of hello, or "me hate you" when he means "I love you." So I think this was Bazardo's way of pitching well. It's the way he was taught on the Bizarro World.
Me am Bazardo! Me have bad game to Red Sox and make Tigers lose! Bazardo am sad with lack of success!
Oh, I was just waiting to make that joke again this season. And I regret that I probably won't be able to anymore.
(via The Detroit TIgers Weblog)
UPDATE: Aaron Fultz apparently didn't like that Rapada got the nod over him. After Rapada got the call up to Detroit, Fultz asked for his unconditional release. Fultz looked like the guy who would replace Tim Byrdak in the Tigers' bullpen after he signed with the organization. Four walks in 5 2/3 innings might have changed that opinion.