Remember when Brandon Inge treated the idea of playing catcher again the same way most of us would treat having to clean a septic tank? If you don't, that's okay. That was so two months ago, anyway! Forget all that stuff now. This isn't March anymore. This is May. And as of May 2008, Inge likes catching - likes it like Mikey liked Life - and wants more, more, more of it.
Via MLB.com's Jason Beck:
"When I'm in there, I'm dedicated," Inge said. "I want to call a game. I take pride in it. It has definitely changed, I think, for the better."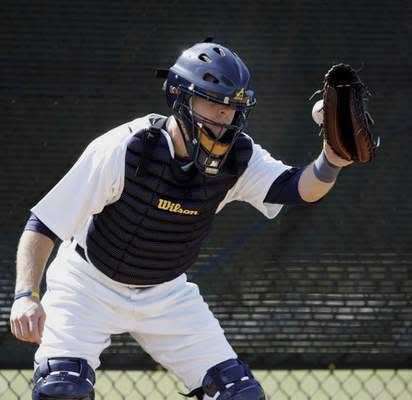 Inge isn't just open to the idea of giving Pudge Rodriguez a rest whenever he needs it this season, either. He's also beginning to sing a tune the Tigers have been waiting to hear since February, expressing interest in possibly taking over as the full-time catcher next year. Third base is always going to be the girl he wish he was with, though.
Courtesy of the Detroit News' Lynn Henning:
"Yeah, yeah, I'm not gonna lie," Inge said of his third base romance, "but I'm good with the catching, too. I don't like sitting.
Besides realizing that catching may not be as bad as he may have been dreading over the winter and spring (unless he's just saying what he thinks Jim Leyland, Dave Dombrowski, and Tigers fans want to hear), it may also be dawning on Inge that he's probably not going anywhere. Unless a team decides that it absolutely needs a third baseman for the stretch run, and wants Inge so bad that they might offer a major league caliber pitcher in return (not to mention picking up some of his salary), this is a relationship that looks highly likely to continue. And maybe Inge is finally getting used to that idea.
Considering that Detroit may have been looking at having to offer Pudge big money to come back again in 2009 because the organization's catching situation looks so bleak right now (a subject which really deserves its own blog post), this is potentially good news for both sides involved.