Jeremy Bonderman (3-4, 4.34) vs.
Miguel Batista (3-6, 5.98)
Well, hello everybody! You'll have to bear with me for a couple of days as I attempt to reacclimate myself to Eastern Standard Time (Malaysia is 12 hours ahead) and catch up on two weeks' worth of Detroit Tigers news. I can't thank Big Al and Mike McClary enough (though I will certainly try my best) for keeping BYB updated while I was away - especially when both of them have their own fine blogs to fill their days. (And if you haven't checked out either The Wayne Fontes Experience, Sidelion Report, The Daily Fungo, or The Detroit Tigers Podcast, you're depriving yourself of some good stuff.)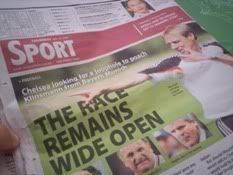 You probably could've guessed this, but I couldn't get any baseball news during my trip. It was all about soccer in the newspapers over there, and badminton is a big sport in Malaysia, as well. Picture billboard ads with athletes fiercely swinging at shuttlecocks. (I'll have to figure out more ways to work that word into future posts.)
So the Tigers are still having some trouble with that whole winning thing, eh? But I'm glad to see that Mount Leyland erupting and Jeff Larish getting the call up to the big leagues were among the notable events to take place over the past two weeks. And who exactly is the left fielder these days? Raise your hand if you've been asked to play there recently. I'm still combing through my e-mail, so may have missed any such request from the local ballclub. But I'm really bad at moving back on fly balls, anyway. Oh, one more thing: Hemorrhoids? Really? Is there a body part Kevin Rand hasn't had to check this season? Yeesh.
Okay, onto the game at hand. Jeremy Bonderman was the last Tigers starting pitcher I saw before I took off for southeast Asia, so it helps my equilibrium to see him going for the Tigers today. He's put together three good starts in a row (including a win over the Mariners), which is a trend that hopefully continues this afternoon.
Miguel Batista pitched well in his last start against the Red Sox, but was smacked around before that at Detroit (when he was also matched up against Bondo). This is a match-up that usually works out pretty well for the Tigers. Did I just cast a jinx upon them?
Lookout Landing provides your SB Nation opposing view this afternoon.
I really hope this post made sense. After sleeping all day upon returning to Michigan and staying up all night, I'm pretty foggy. I intend to watch today's game and join in the GameThread discussion with you guys, but such plans could change quickly. I might have zonked out by then. But I'm glad to be home and look forward to settling back into the routine here. I'll be catching up with everyone in the next couple of days.
Oh, and Let's Go, Red Wings! I'm glad I didn't miss out on any potential Stanley Cup victory celebrations.